By Ted Marr, 25th Generation
June 2012
A long odyssey which began in the mid-1970s, came to the beginning of the end in June 2012 when I chanced upon a news article about Yo-Yo Ma's searching for his roots. That news article led me to discover a complete copy of the 1948 Bright Creek Ma Family Genealogy located at Tien Yi Ge, a 400-year old library in Ningbo. On June 11, 2012, I came face-to-face with the original 1,000+ page genealogy's electronic copy. The moment was electric and thrilling. The story on how it all happened and how the tome was saved from the fanatic Red Guards to burn all things old in the 1970s was nothing short of a miracle. To read the entire story, which I penned in June 2012, continue below.
On Monday, June 11, 2012, the alarm went off at the usual time 4:45 AM to wake me up to go bicycling around the West Lake in Hangzhou. At the time, I was staying in a condo right next to the Lake. It was a sleepless night. Did not sleep well at all. I was too excited thinking about the Genealogy Odyssey. Anyway, it rained all night. Too wet to go cycling. Went right back to sleep. Woke up again at 6:30 AM. This time, I decided I am going to go to Ningbo today.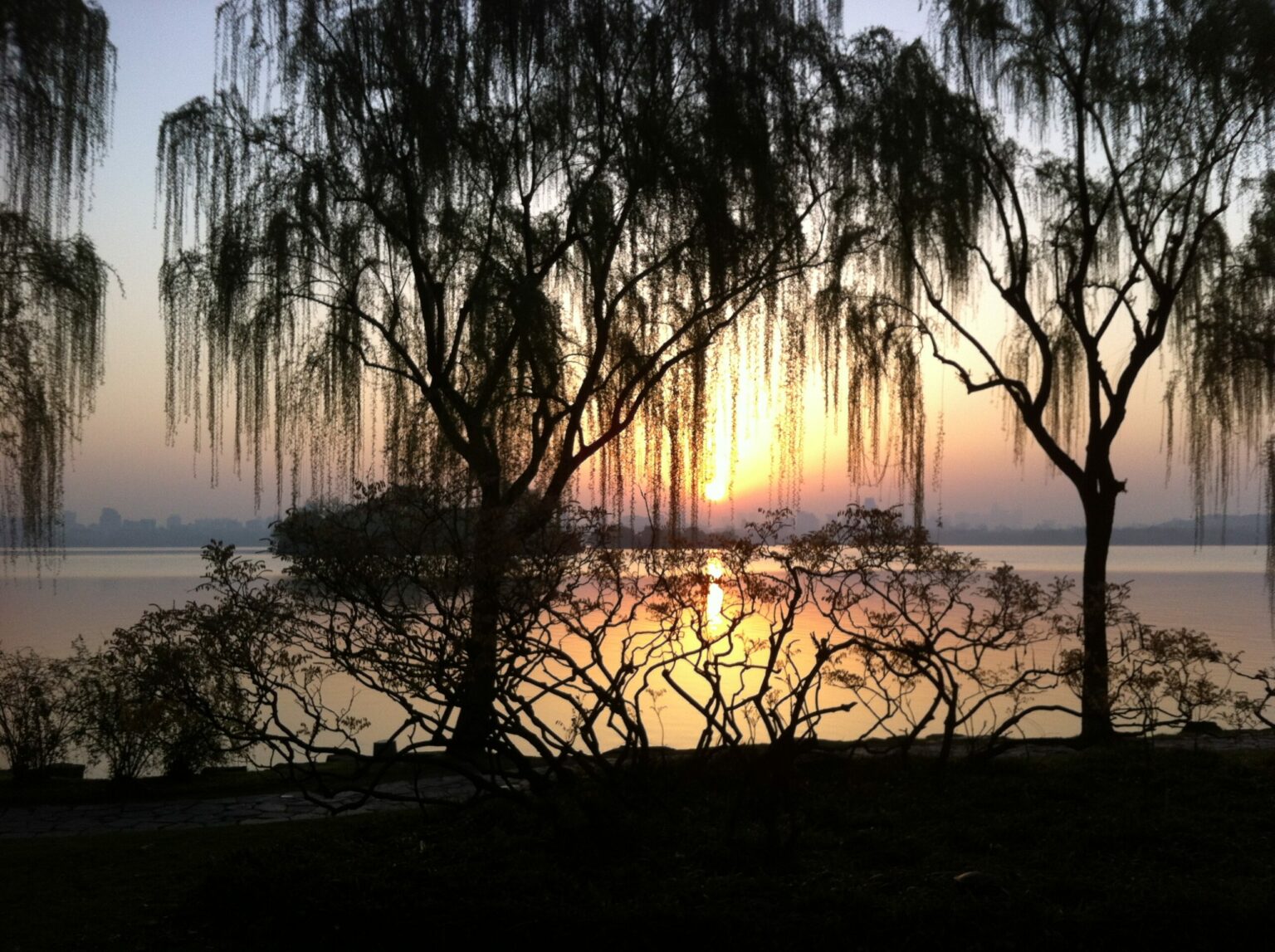 All night I replayed the long Odyssey that started in the mid-seventies when Alec sent me father Henry's papers. Among the numerous materials was a copy of the Simplified Ma Family Genealogy compiled by Great Grandfather Tian Pei in 1936 before I was born. Then in the sixties, Evelyn updated it. On and off the years, I studied and shared the family background information with members of our extended Ma/Marr Family.
While I was at the University of Iowa, I chanced upon the Taiwan reprints of the various censuses of China throughout the ages, from Ming to Qing to the Republic. I learned that we were from Kaifeng/Nanyang area in Hebei, and we might be of Uyghur origin. It took a long time to decipher classical Chinese, which does not use grammatical punctuation.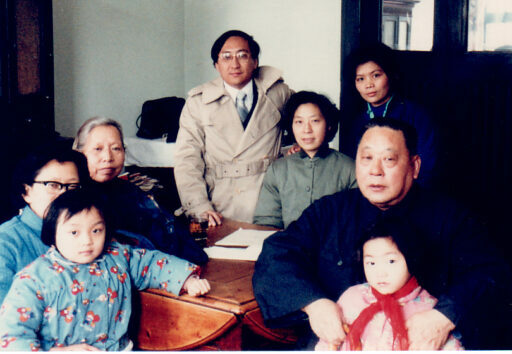 In 1980, when I first visited elder brother William and his family in Shanghai, I learned that there was a more extensive copy of the genealogy. He said, "It is this thick," indicating with his widespread thumb and forefinger. It must be at least six inches. I thought he was exaggerating.
"What happened to it?"
"The Red Guards found it under our floorboard, took it, and destroyed it."
"What was in it?'
"Everything about our family from the beginning to now."
"Have you read it? Can you tell me more detail?"
"No, I have not read it. Too big. Besides, it is dangerous to read such bourgeoisie stuff."
The subject of the BIG genealogy remained silent until 2003 during the Pegasus Tour. When the family group went to our ancestral village, Hundred Beam Bridge in Ningbo, which we thought for the longest time was Eight Beam Bridge, the BIG genealogy subject came up again. In the simplified version, the name Hundred Beam Bridge was written as Eight Beam Bridge. In the Ningbo dialect, eight sounds the same as a hundred. When great grandfather Tian Pei transcribed the simplified version in handwritten ink brush, Eight Beam Bridge's apocryphal name got inserted. On the Pegasus Tour preparation trip, a year before the formal tour, we discovered the error because there was absolutely no record of an area, Eight Beam Bridge
We were told by the Hundred Beam Villagers that there was an original large volume of the genealogy. But the Red Guards came and destroyed all the copies. None was left. This matched big brother William's story.
Still, there is no solid evidence of the original Genealogy. Lots of references and oral tradition about its existence. But no real evidence. No real copies.
Today I must get up and continue my search; there is no more time to reminisce. It takes a little more than two hours to get to the center of Ningbo. I used Google Map to sort out the route to Tien Yi Ge 天一閣. This destination could complete the Odyssey. A pot of latte with Italian-style perked coffee made from Starbucks coffee bean and boiled Chinese milk plus my homemade bread should be a good breakfast on the road.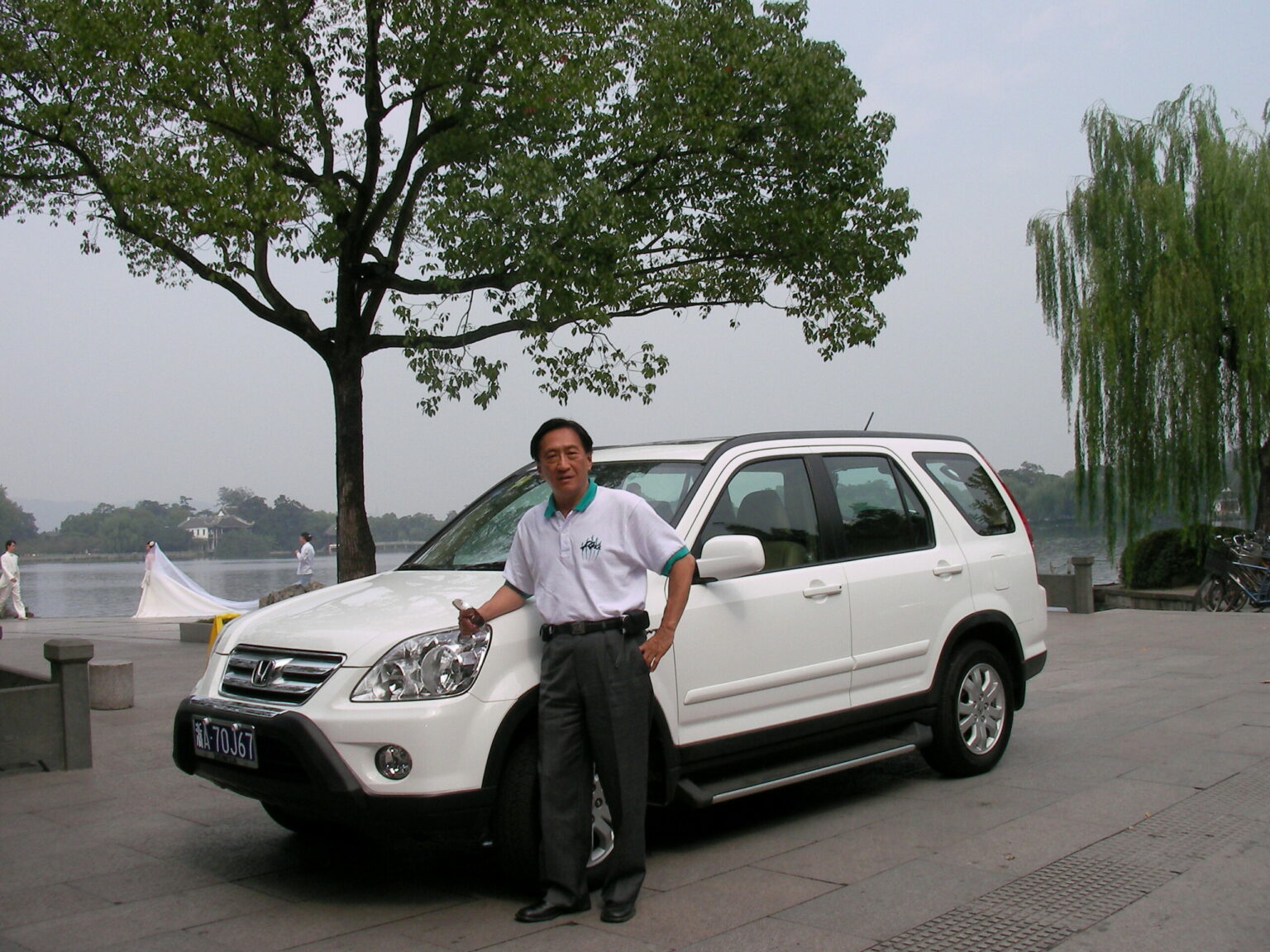 By 7:35 AM, I was out of the door into my Honda CRV. I had to make it to Tien Yi Ge by 1030ish. Like all Chinese government offices, their office has a long lunch hour from 11 AM to 1 PM. Unfortunately, I made the wrong decision on the route to get out of town. I took the Feng Qi Road route and got stuck in terrible traffic. I should have chosen the U-turn and use the West Lake Tunnel route.
By the time, I got on the Bridge to cross the Qian Tang River, it was already 8:15 AM. I am going to miss the morning window.
Then I realized that I only have 160 Yuan in my wallet and the gas tank is near the quarter mark. At that time, gas stations only take cash or their own credit cards. I have to do something.
First, I added 150 Yuan worth of gas at the nearest service station on the other side of the River. Then I went to the bank on Jiang Nan Boulevard to get cash. I should get a lot of cash, just in case Tien Yi Ge wants a lot of money for the files. 6000 Yuan should do it. On the highway, I will then fill up the tank at a rest stop. All of these will cost me time. Things are not going my way this morning. I feel it is going to be a disastrous day. I decided, better to take it easy and let fate decides. If I miss the morning office hours, I will wait it out with a very long lunch for their 1 PM office opening.
I reflected on the recent events that led up to this crazy wild goose chase trip to Ningbo on the road.
This past March 2012, while spending time in Hangzhou, I thought I should re-start our genealogy research. There are so many unknowns. In the process, I discovered a lot more about our ancestors. One interesting example is concerning 马元演 Yuen Yen G3. As it turned out, he was a pretty smart fellow who earned a Jin Shi进士. In the Chinese Imperial Exam system科舉, which occurred every two or three years, the best provincial candidates were sent to the Capital to compete at the Imperial Exam. The top few hundreds were given the honor of Jin Shi. Among these, the emperor appointed them to be magistrates of various cities. Eventually, they rise to the top and serve as Imperial Court Officials, such as the prime minister, national department heads, etc. Yuen Yen eventually rose to become the equivalent to our current day, Assistant Secretary of HHW.
In my work, I engaged a part-time researcher, Moon Wong, who has a Master's in Economics and has a love for history. After he gets off his day job at 3 PM, he devotes evenings and weekends working on various projects for me. After a couple of months, he got quite familiar with our family background, especially the early history.
At one point, we found a website located in Beijing that offered to give us a copy of the "Ningbo Ma Clan Genealogy" for thousands of dollars upfront. No guarantee that it is our genealogy. I was tempted but decided it is too risky to buy it sight unseen.
Last Saturday, Moon and I were at the Hangzhou City Library poring over some of the primary source material. It has been slow going because there is a lot of material and most of them are in classical Chinese. Although it takes me forever to read one paragraph, Moon was pretty quick at it. Moreover, the modern Chinese books are in the simplified script, which makes it slow for me.
One day, Moon said to me, "Come and read this paragraph."
It is a collection of modern essays in simplified Chinese script. The collection focused on recent writings about Ningbo history. I probably would never have picked it up. It doesn't seem to have any relevance to what I was searching for. The article's title he pointed in the volume was "A Report on the Ying Lake罂湖Ma Family Genealogy."
A quick reading told me that it was a recounting of Yo-Yo Ma's PBS story in the series, Faces of America, about the search for his roots. I had seen this documentary. I always wondered if Yo-Yo is our distant cousin. But up to now, everything I heard about this documentary has been in English and no details in Chinese.
The Chinese article in the collection has detailed names in Chinese. I remembered Ying Lake罂湖in, one of my research documents. Originally settled at Thatch Hill near Ningbo, the Ma Family split up and moved to different Generation Five villages. One of the brothers went to Ying Lake.
So, Yo-Yo Ma must be from one of these brothers. I know one of our forefathers, Da You G6, went to Bright Creek. I need to do some more research to know definitively if Yo-Yo Ma is a distant cousin. But, for now, I am pretty sure. Later after a detailed examination of the genealogy, he connected with us at the fourth Generation. See Appendix C for the original document on "The Discovery of the Ying Lake Ma Family Genealogy."
In the essay, several lines jumped out at us:

The red underlined phrase said, "Bright Creek Ma Clan Genealogy." It also said there is a 1948 volume at the Tien Yi Ge.
Turning to Moon, I asked, "What is Tien Yi Ge?"
"I don't know. Must be important."
We made a copy of the article. I stuffed it in my backpack. While on my way to my friend Lin's house for a picnic, I kept wondering what Tien Yi Ge could be? Arriving at Lin's house, I asked Lin's wife, Tan Jing, an expert on Chinese classics.
"What is Tien Yi Ge?"
"You don't know? It is a famous place in Ningbo, over 400 years old. It has one of the oldest collections of Chinese ancient manuscripts and books."
"Well, it seems they have my family genealogy. You think they will let me have a copy?"
"For sure, they are very reputable."
That afternoon during the picnic, my thoughts were often distracted by what this could lead to. Coming home rather late, I was too tired to do any more research. The next morning, I looked at my email and found one from Moon asking me to look at a particular website. It was TienYiGe.com.cn. He found the "Bright Creek Ma Clan Genealogy" online!
I must have spent the next six hours straight poring over the material, all 591 electronic files. Each file has two pages. So, a total of 1182 pages. After locating the key elements of the genealogy, I learned:
The generation middle name lineup matches what was in my grandfather's hand-copied simplified edition which I have.
All the early generation names in our simplified volume are in these extended volumes.
Names of all our siblings, including the daughters, are all there which is rare for Chinese genealogy.
There is even a short write up about Grandpa Henry.
I was too excited not to share this news with everyone in the family. I wrote an email to everyone. Brother William had not exaggerated. The genealogy must be over six inches thick when printed on Chinese rice paper.
My daydreaming on the trip was interrupted by a call from Lin. He was concerned that I don't know how to complimentary words to the Tien Yi Ge people. So, I dutifully memorized what he taught me.
Driving quickly at the top speed, I approached Ningbo. The coffee and bread came in handy, but I was worried about what and how to ask the people at Tien Yi Ge. What little I read online about Tien Yi Ge, it seems like a fabulous place, much like the Huntington Library in Los Angeles, California.
An idea popped in my head: we have a cousin, You Ling, connected to us at G21 and is the only close Ma relative still living in Ningbo. Why not ask him to come? We first met and got well acquainted since the 2003 Pegasus Tour. I have visited him in Ningbo several times since. He speaks Ningbonese and can help me explain what my quest is. I called him at 8:30 AM. I explained to him that I might have found a copy of our genealogy at Tien Yi Ge. We exchanged in Ningbonese.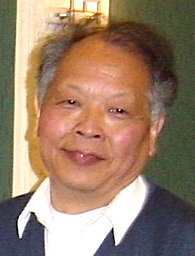 "Non sho dak yi le la saw di feng? (Do you know where it is?)"
"Don zuer. Chaw ming de, meh jing de. Haw ah. Ah la Ti I Kok bang ter, sut di bur. Daw ze, ngo je da ti wor fa noon. . (Of course, I know it. It is famous and not very far away from my house)."
"Hoa a. A la sut di bur ban doa. Do la, I za tan but non. (OK, let's meet there at 1030. I will call you when I get near.)"
I have not spoken the Ningbonese dialect for a long time. Uling is about my age, and he speaks perfect Ningbonese and sounds just like my father, Henry. Uling has always been nice and accommodating to me. This last-minute notice to join me was not an issue for him.
The Google map route mapped me perfectly (It was before the days of GPS in China). I did not get lost at all. I made it there in less than 2 hours and arrived at Tien Yi Ge at exactly 10:30 am. After parking and getting out of the car, I heard a booming voice behind me.
"Hong Chong A Go. Non Haw. (Elder brother Hong Chang, how are you?)"
"Uling, non doa la. (Uling you arrived) So di jai xo le ah. (You rode your electric bike.)"
There are two reception areas at the front. One for tickets and one for "Guest Services"; I went inside the "Guest Services." Placing my backpack on the counter, taking out my folders, I wondered how best to explain what I need. I had gone over this little conversation in my mind many times on the trip. But before I could open my mouth, I heard Uling's booming Ningbonese voice behind me.
"A la xian ki Feng Feng. (We would like to see Feng Feng.)"
"Hah yi Feng Feng? (Which Feng Feng?)"
"Yuan Feng Feng. 袁芳芳"
Strangely, the receptionist stiffened up. She said she does not have Yuan Feng Feng's number, but she can call the department. Uling promptly told her not to bother. He has her mobile phone number. Putting on his reading glasses, he found the number and called.
Speaking in Ningbonese, he said to her.
"We are in front of the entrance and would like to see you."
"You want to visit the library and garden?" Came a female voice on the other side.
"No, we have a simple matter to discuss with you."
While waiting for Feng Feng, I asked Uling who this person is. He said, "She is the daughter of an old friend who used to work with him at the radio factory."
Not knowing any more details, move on to ponder other thoughts.
In a few minutes, a middle-aged lady appeared. I was expecting someone younger.
Feng Feng arrived, and we explained to her that we think the Bright Creek Ma Clan Genealogy on their website is our family genealogy, and we would like to get an electronic copy.
Without hesitation, she said, "Follow me. I will take you to the person in charge of this."
Walking around the building, we entered the compound from the back. I was surprised to see a very modern, stylistic modern office. Very tasteful in a classic and modern simple style. Nice. We went upstairs, and she introduced us to the officer in charge,
"I am Mr. Lo." the manager introduced himself in Putonghua (Mandarin.) Lo is a Manchurian family name (Chinese for building). "What can I do for you?"
While I started to explain my situation to Mr. "Building", Yuan Feng Feng asked Uling to go to her office. They disappeared.
I showed Mr. Building printed pages from the website of Bright Creek Ma Clan Genealogy with my name on it, and compared them to our own simplified version. I demonstrated how the two are the same Clan. He looked on the website and was impressed that I am from Bright Creek Ma Clan. When I asked him if I could have a copy of the electronic file, he did his usual Chinese sucking sound, to indicate that the issue is not easy.
"We don't usually give out copies but you can screen capture and make copies that way."
"But, the screen capture pictures are not very clear."
"It is clear enough."
I sensed resistance, so, I pleaded. "How about if we pay for it? How much does it cost?"
"We usually charge 20 Yuan for one page."
Quick calculation. 20×600=12,000. My god, twelve thousand Yuan. Nearly US $2,000. Seems excessive.
"So much!" Involuntary response on my part. Besides, I don't have enough money on me.
I heard Uling's booming voice behind me. He had snuck back into the room.
"Yo Ki Yuan Su Ji hui bon mong. (Maybe Secretary Yuan can help.)"
Did he say, Su Ji? Here I need to digress a bit.
In the Chinese government structure, unlike Chinese civilian organizations, there are two parallel reporting lines. The Administrative line is just like any of our commercial organization, and there is the "Party Line." The highest-ranking person is called Su Ji or Secretary. This person often also holds a Civilian Administrative position with a "Vice" in front. On the surface, this person seems to report to the civilian administrative head person, but in fact, the real power is the Party Secretary, the real Boss.
Did I hear Uling correctly that Yuan Feng Feng is the Su Ji of Tien Yi Ge? If so, she is the real boss!
She stepped up to Mr. Building and said, "You know they are really my relatives. Uling and my mother are very close. Uling's uncle on his mother's side, Professor Chou, recently donated many rare books to us. You remember Professor Chou?"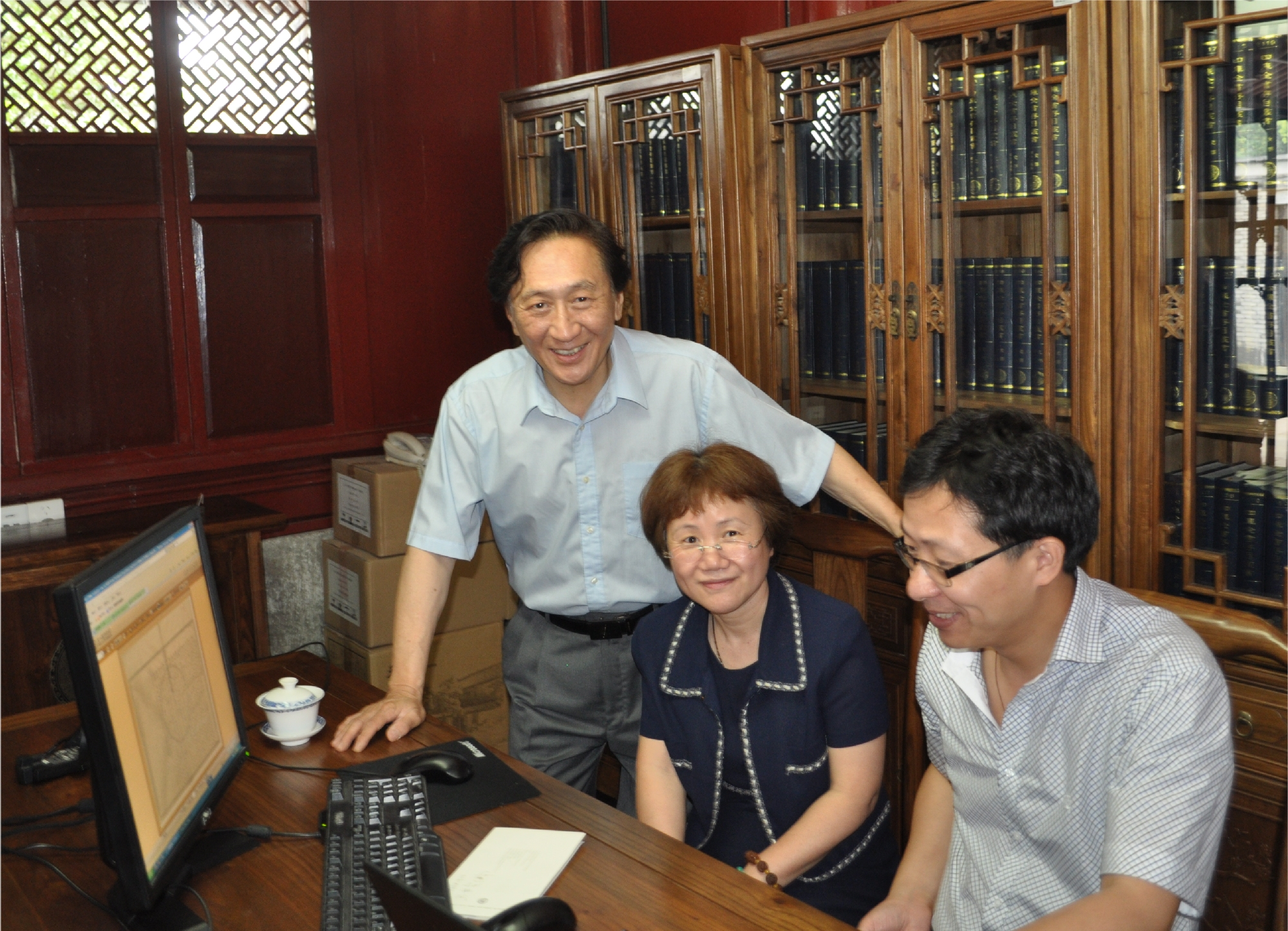 Immediately, the "Building" had a facelift. It got very sunny and bright.
I noticed Uling's constant smile grew bigger, and now it extends from ear to ear.
"If the leadership said it is okay, there is no problem. Let's go to the other room to get it downloaded." How pleasant Mr. Building has become.
I tried with all my might to keep from laughing. A stiff face is best in this situation.
Entering another room, I saw a young software engineer at work. Mr. Building, who has now gotten very friendly, asked the engineer to help me with the files. As he was locating them, I said to him, "This website must have been very recent. Your team used the latest technologies in presenting the pages. Very impressive."
"Yes, it was done recently. Made public only a year ago in early 2011. Do you like it?"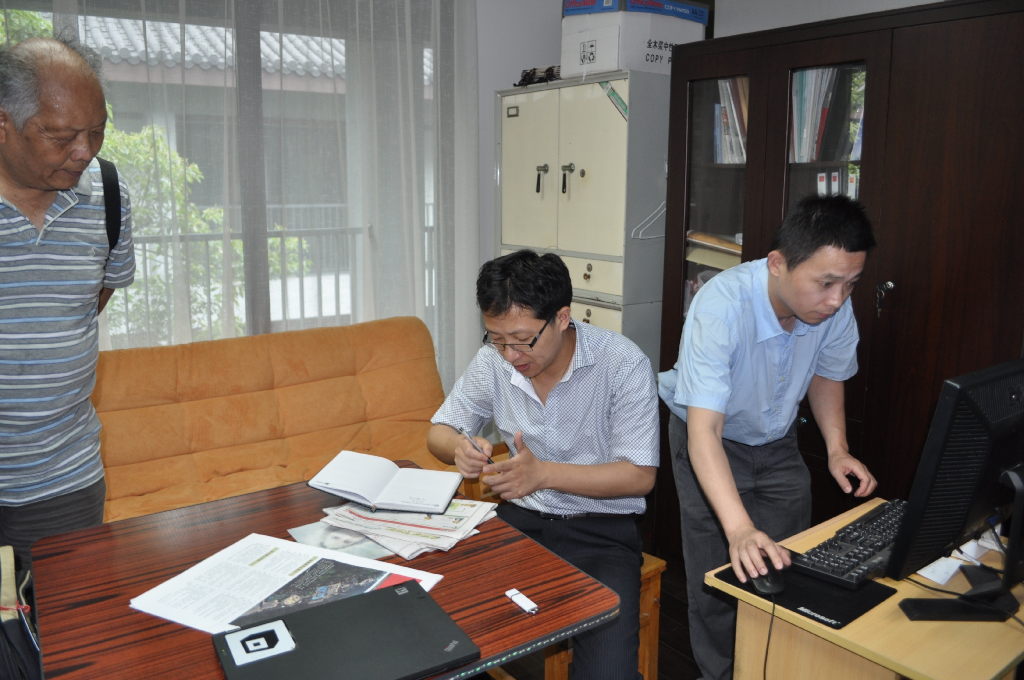 "First class. I think you did a great job."
Although they did use the latest techniques in China, Chinese software engineers had poor implementation with the user interface. There were often a lot of small but significant mistakes in machine-human interface issues. But I am not here to fix their problems. Rather, I repeated many honorifics and appreciating words and phrases that Lin taught me on the trip over from Hangzhou.
After the engineer downloaded the files to my USB stick, I downloaded them again to my trusty ThinkPad X301. I tested some files from my PC to ensure they are what they are. I even compared several files between Tien Yi Ge's and my own screen captured ones. Sure enough, their downloaded images are much better resolution. Not fuzzy at all like the ones online.
I was prepared to download and relieved that I got the files at no cost.
File check completed, we went to Su Ji Yuan Feng Feng's cavernous office, I had a private moment with Uling. I asked Uling, "Did you know your friend's daughter is the Su Ji?"
"No, I did not know until just now."
After the usual obligatory hospitality exchange of greeting and tea drinking, I asked Su Ji to have lunch with us. She declined and said she has a meeting. It is already noon! Way past her regular lunch hour. And, this morning, I was worried sick about the 11 AM deadline.
"We can chat a little more today." Su Ji said softly.
Between several calls she took to handle various internal issues, I was dying to ask her some background questions.
"Is it possible for me to take a quick look at the original volume?"
"No, it is in humidity and climate-controlled storage. We never take it out. Maybe on a special occasion, we can do that. When that happens, I will let you know."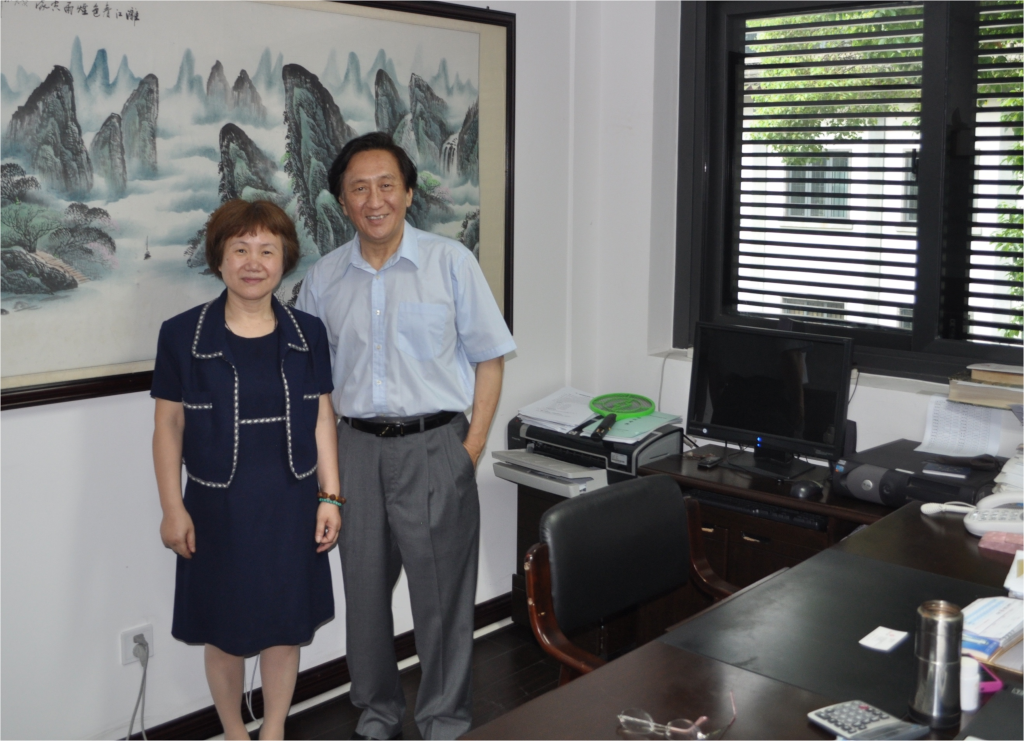 "How did the genealogy get placed on the Internet?" I asked.
"In 2009 and 2010, the City of Ningbo gave us 20 million Yuan to create a database and a new admin building. We used 5 million to build a database and website for the public. Your family genealogy was among one of those we have completed. We are in the process of doing more."
"Wow, that is really wonderful. We are very appreciative of your effort. We are much moved." More words and phrases from Lin's tutoring.
Then, came the really big news from Yuan Su Ji.
"No, you should not thank us. You should thank two of our courageous comrades. Comrade Hong Keyao 洪可尧and Comrade Qiu Sibin 邱嗣斌. Unfortunately, they both are dead." (See Appendix A for their biography)
"Who were they?" Perplexed, I asked.
"You see, during Cultural Revolution, there was this movement to destroy everything old. Genealogies were considered old and must be destroyed. Like what you told me about your copies in Shanghai and in your village."
"Yes, I know. It was so sad. I can't believe there is a copy here. Did my ancestors deposited a copy here and these Comrades, Hong and Qui protected them?"
"No, it was not like that. What they did was most extraordinary."
"How?"
"All the genealogies and old manuscripts were collected by the Red Guards and dumped at the Paper Factory. They were to be used as fuel. Comrades Hong and Qui heard about it. They went there, pretending to collect these manuscripts as fuel for Tien Yi Ge. Risking their lives, in secret, they collected them for safekeeping. There were hundreds of genealogies. They could not get them all for fear of being suspected. Your family is fortunate to be one of those collected by them. It is fate."
"Wow, this is really priceless. The actions of these brave comrades are very touching. All Ma Family members thank them." I did not need to borrow words from Lin. These words came from my heart.
For a moment, I was speechless and could hardly breathe. What a turn of events. What these two gentlemen did has allowed my Odyssey to end in such victory and satisfaction. We are grateful.
At the time of the Cultural Revolution, Comrade Hong was a Senior staff member at the Center, and comrade Qui was the Director. There was no Su Ji system yet. I am sure I have not heard the horror stories and the suffering they must gone through during those heart-wrenching years. I asked if their descendants are around and would like to meet them. As it turned out their children are all working at Tien Yi Ge. Because it is lunch time, it would have to wait for another time. I am sure Uling will help to arrange that. I want to know more about their acts of bravery from their children. And, I wonder how they died. Yuan Su Ji seemed reluctant to talk about these details. Must be too painful. If I ever find these stories, I will them write them up as another chapter, "Tears".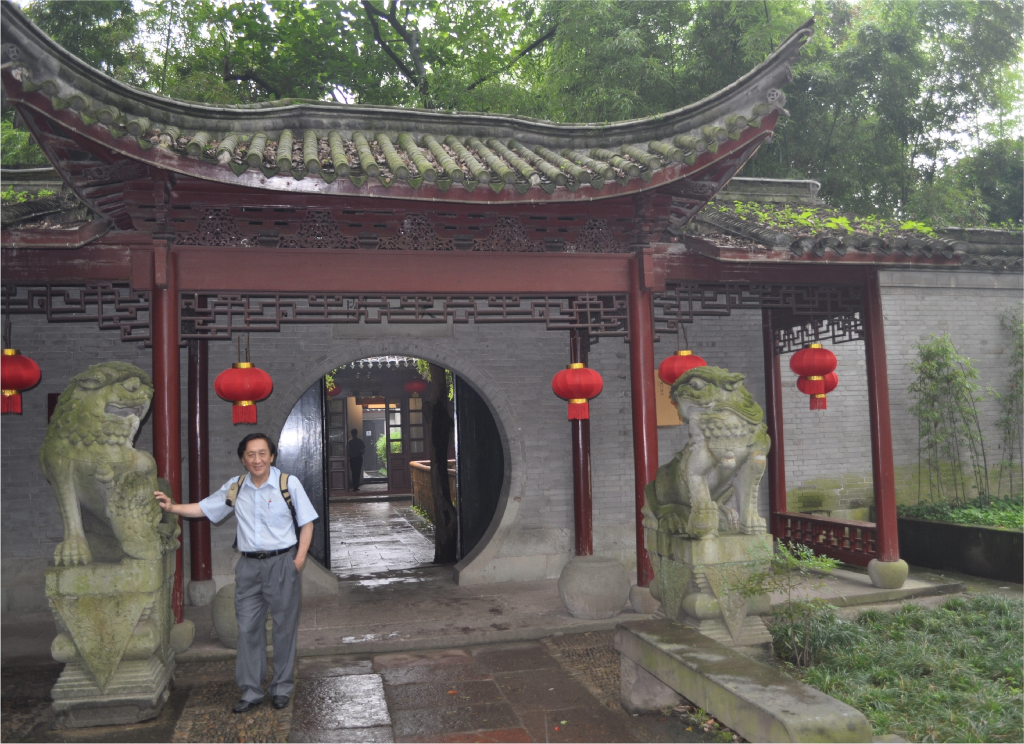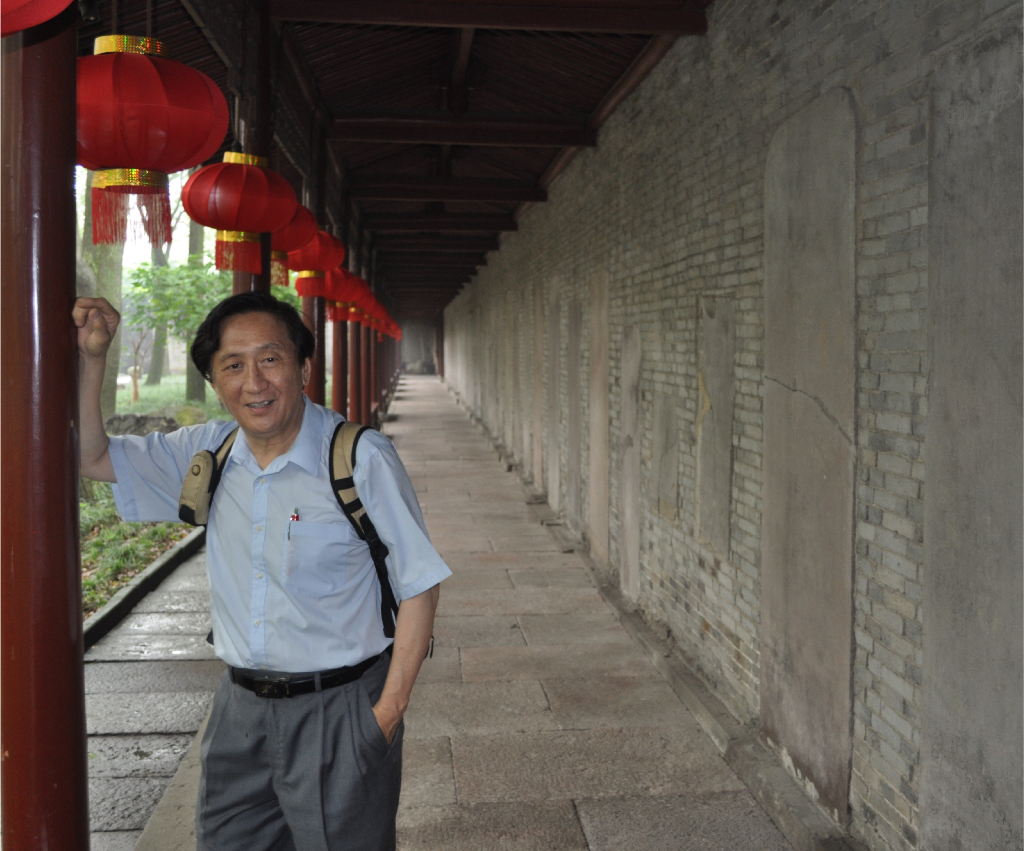 After the meeting, Yuan Su Ji arranged a guide to take us on a tour of the Library and Garden. The site is magnificent. In the museum there is a one hall dedicated to telling the story of the invention of Majong by Ningbo people.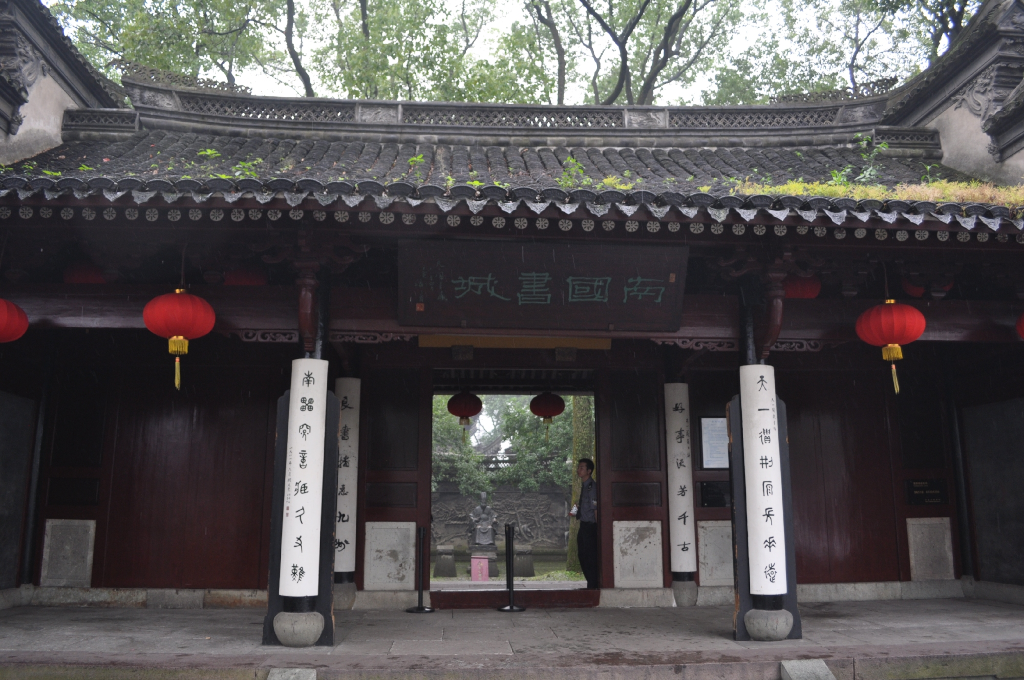 I asked Uling if he has time to go on another adventure with me. I was thinking about the Tombs of the ancestors.
On the way back from Ningbo to Hangzhou, I realized now we can figure out how Dr. Ma at the Bright Creek village is related to us. I called her and asked her to send me her father and grandfather's names. A little research could turn up the evidence. In a couple of days, she sent me all her background info. Unfortunately, it is somewhat incomplete. Looking over the charts carefully, I determined that she is connected to us at the 8th Generation. She herself is placed at generation 23. The genealogy is able to tell her something that she did not know! Her grandfather had no son. So, her granduncle gave his youngest son to her grandfather as his son, or godson. She is only able to remember her relatives' nicknames which were used at home. She also got her father's name wrong. Her father died when she was very young and her uncle got confused in his old age and told her the wrong name. Now she knows her father's real name is Ma Guangshu 马光墅.
Postscript: (May, 2020)
To make sure I captured all the details, I wrote the above narrative shortly after the June 2012 event. The internet has improved considerably since 2012. I can now find more information on Mr. Hong and Mr. Qui, our benefactors who rescued our Genealogy. I also was able to find more information about Ms. Yuan Fengfeng. As it turned out, she was the head of TienYi Ge Library from Dec. 2007 to Feb. 2013. (See Appendix B for a list of TienYi Ge Library Director). As I ponder over these events' timing, it dawned upon how fortuitous and fortunate our Ma family descendants. First, Mr. Hong and Mr. Qiu were at the right time and right place to rescue the manuscripts. And, among all the "old books" they happened to select to rescue, our Genealogy was included in their selection. Then, the Genealogy was locked up for 40 years. Safely! But, the financial grant to TienYi Ge liberated it from the dungeon. And, by another fortunate chance, our Genealogy was selected to be digitized in 2011. The timing was perfect. I was searching in the Hangzhou library in May 2012. Had it been before 2011, I would not have found the manuscript before its digitization. And, had it been after Feb. 2013, when Ms. Yuan was no longer the Director, I would not have the benefit of Ms. Yuan's help to get these files for free. On TienYiGe's website today, http://www.tianyige.com.cn, I can no longer search for our Genealogy. Guess they don't open them to the public anymore. So, within this tiny window of opportunity from January 2012 to February 2013, I got lucky and located the Genealogy and obtained the entire set of our Bright Creek Ma Family Genealogy in electronic files.
How fortunate for the Ma/Marr family. We should certainly NOT squander away this opportunity to learn more about our ancestors.
Appendix A:
洪可尧 (洪可堯) Hong Keyao
  洪可尧 1938年生,浙江宁波人,宁波市天一阁物增副研究馆员,浙江省历史学会理事,宁波市社会科学界联合理事,宁波市历史学会副秘书长。研究方向:宁波地方史 学。主要著作:(主编)《天一阁藏书画选》(宁波出版社1996年出版),(撰文编委)《宁波文物集粹》(北京华夏出版社1996年出版),《四明书画家 传》,(重修)《鄞西桃源乡志28卷》(待刊)。主要论文;《宁波街巷志》发表于《宁波文艺》( 1980~1983年第 10~28期)。从事文物工作 40年,先后征集各类文物:古籍、书画、瓷器、玉器、什件、碑石、家具等1,4万件。撰写古建筑维修方案,修缮古建筑有全国重点文物保护单位北宋木结构建 筑保国寺大殿,天一阁藏书楼、东园、用国工程,天一阁书画馆,省级文物保护单位庆安会馆,白云庄墓道,全祖望先生墓等。迁移抱经楼、水北阁藏书楼等10余 处古建筑。为国家节省大量资金,受到市文化局等表彰。
邱嗣斌 Qiu Sibin
1978年2月,省文化局批准成立宁波市天一阁文物保管所,市文管会和市图书馆分别恢复建制。6月,天一阁建立独立机构,全称为"宁波市天一阁文物保管所"。9月,市委任命邱嗣斌为天一阁文物保管所所长。后蔡灿臻、骆兆平先后任所长。
1951年9月,市文教局决定,将鄞县通志馆和文献委员会并入宁波古物陈列所(天一阁),马涯民被委为古物陈列所负责人。1959年4月,邱嗣斌任所长。
Appendix B: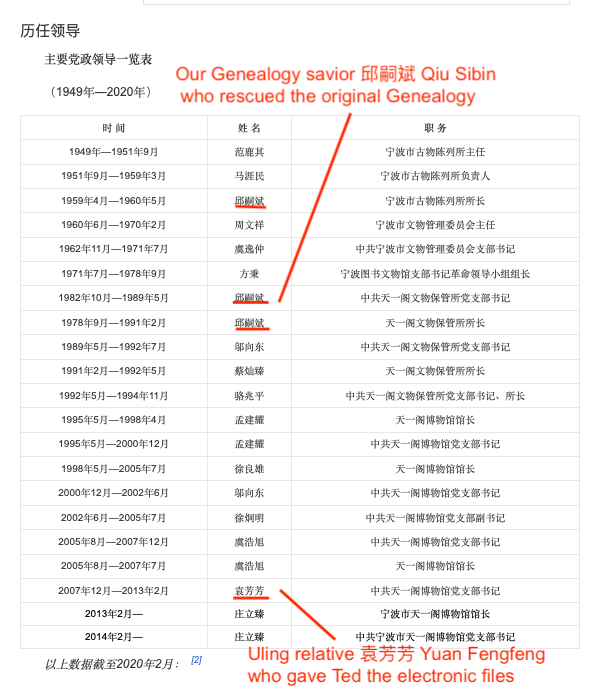 Appendix C: The Discovery of Ying Lake Ma Family Genealogy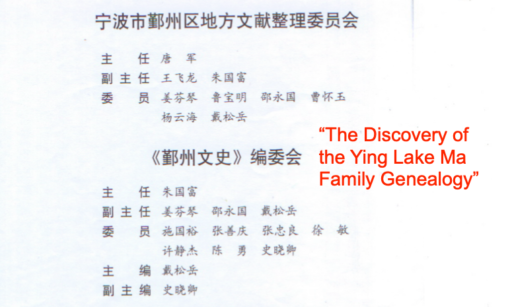 Click below for the complete News Article.