Translation and web page author: Debbie Marr (G26); Special thanks to Jan Shun for transposing the Chinese into digital format.
This is a page about Henry Marr's (G24) second wife Yue Pai Yung (余佩云). Henry also referred to her as Mother Marr Matriarch Yue (馬母余太夫人).
Henry Marr's Ode to His Wife
After Yue Pai Yung's death, Henry compiled a collection of remembrances and sent copies to their children, Alec, Meiling, Evelyn, George, and Ted. The collection, consisting of a 32-page document and a 1-hour audio record, was completed and distributed 6 months after her death.
The audio recording is here:
The document, original Chinese and English translation, is here:
Mother Marr Matriarch Yue – Lasting Voice and Images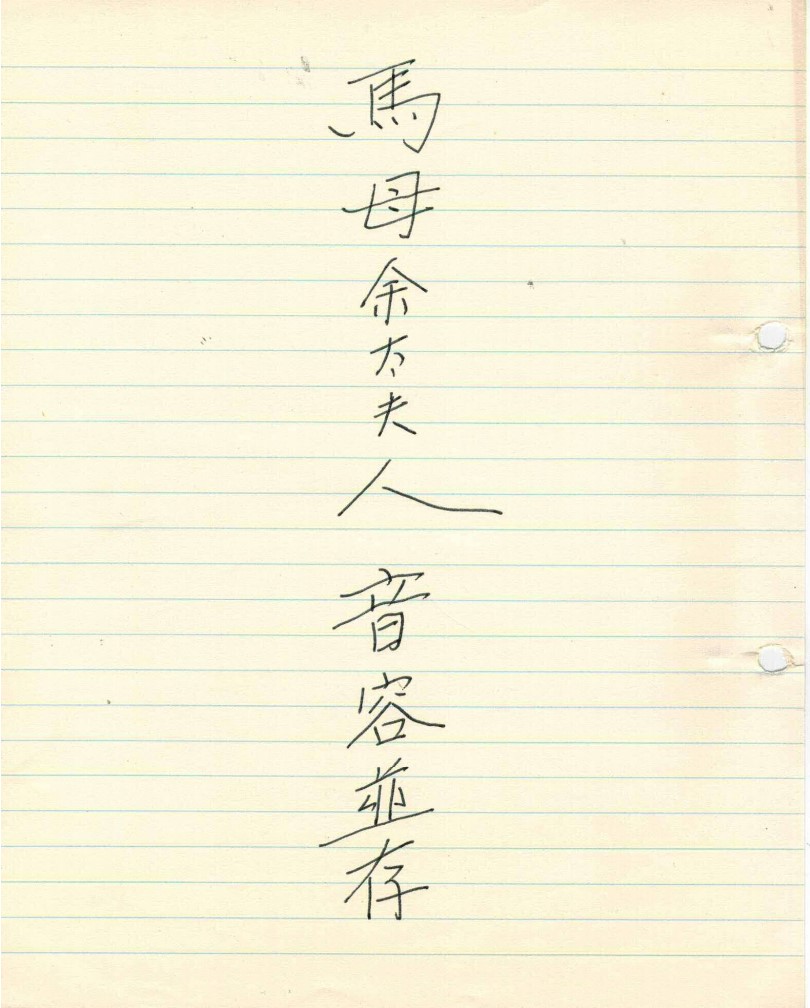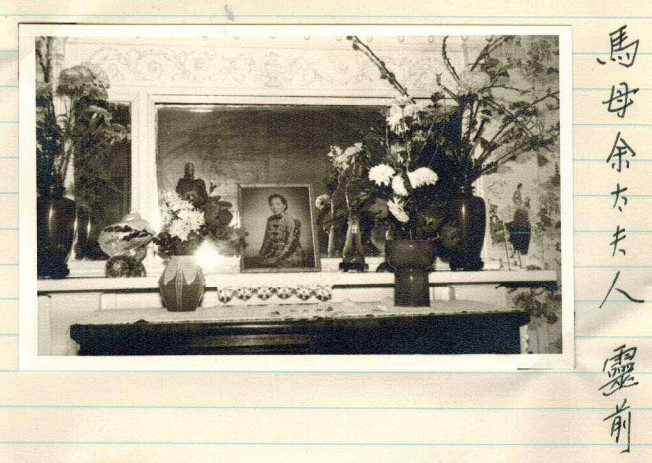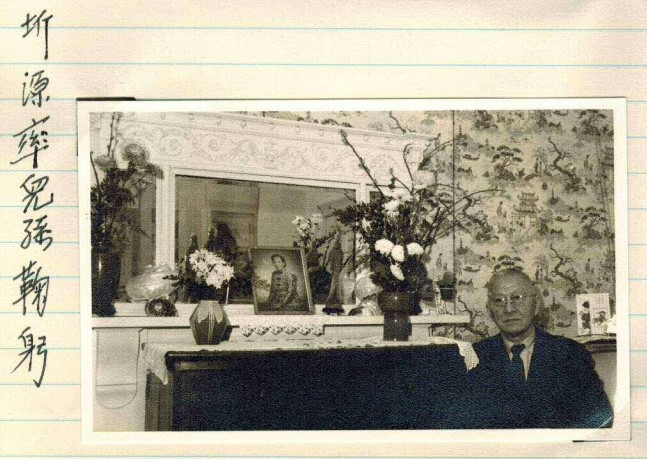 Mother Marr Matriarch Yue – Her Legacy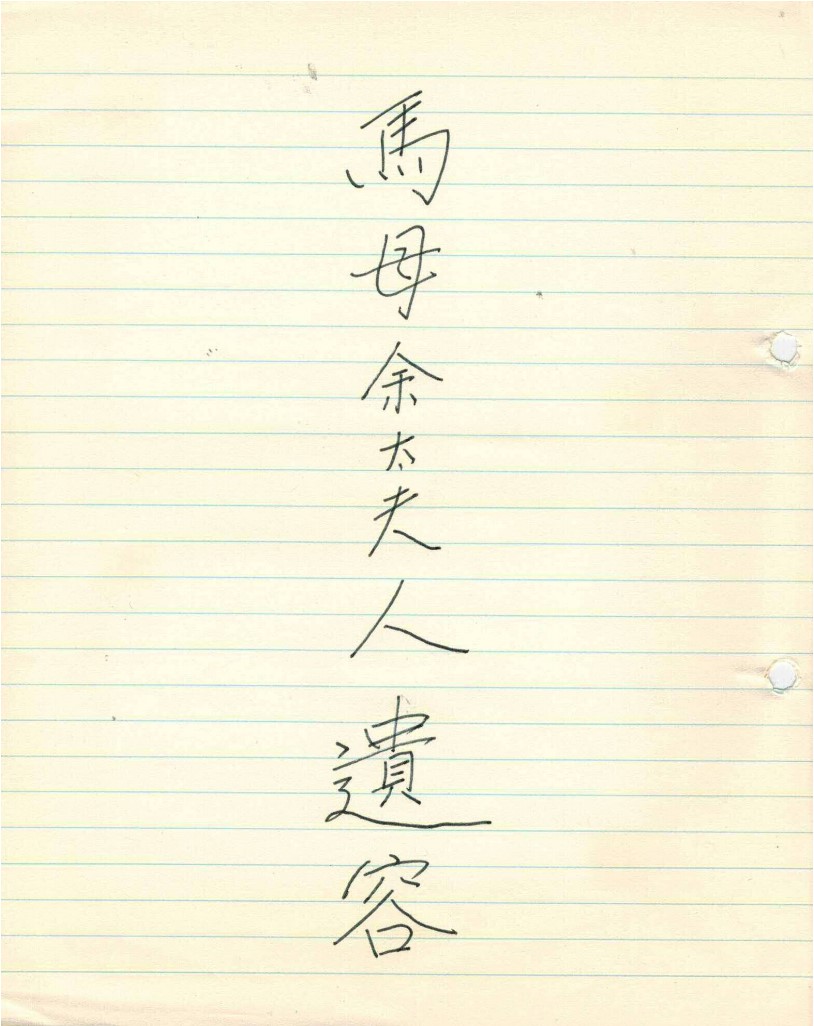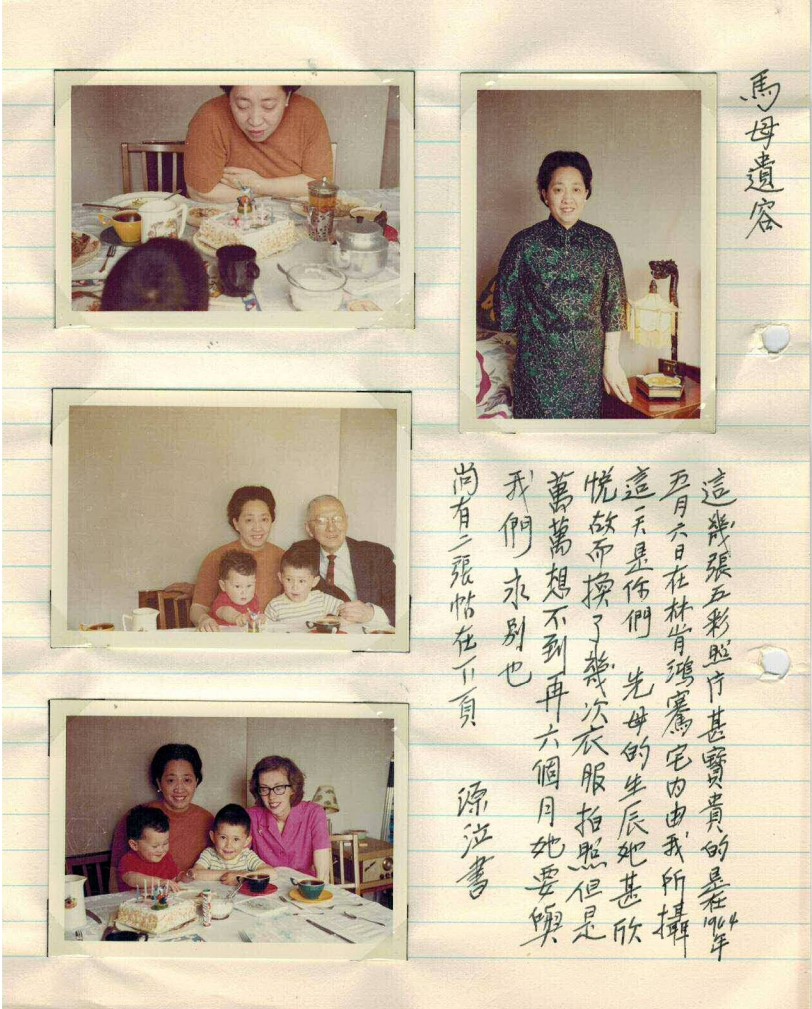 I took these very precious color photos on May 6th 1964 at Alec's (鴻騫) house in Lincoln. It was your mother's birthday. She was very happy, so she changed clothes several times for photos. Inconceivably, it would be only six months later that she would leave us.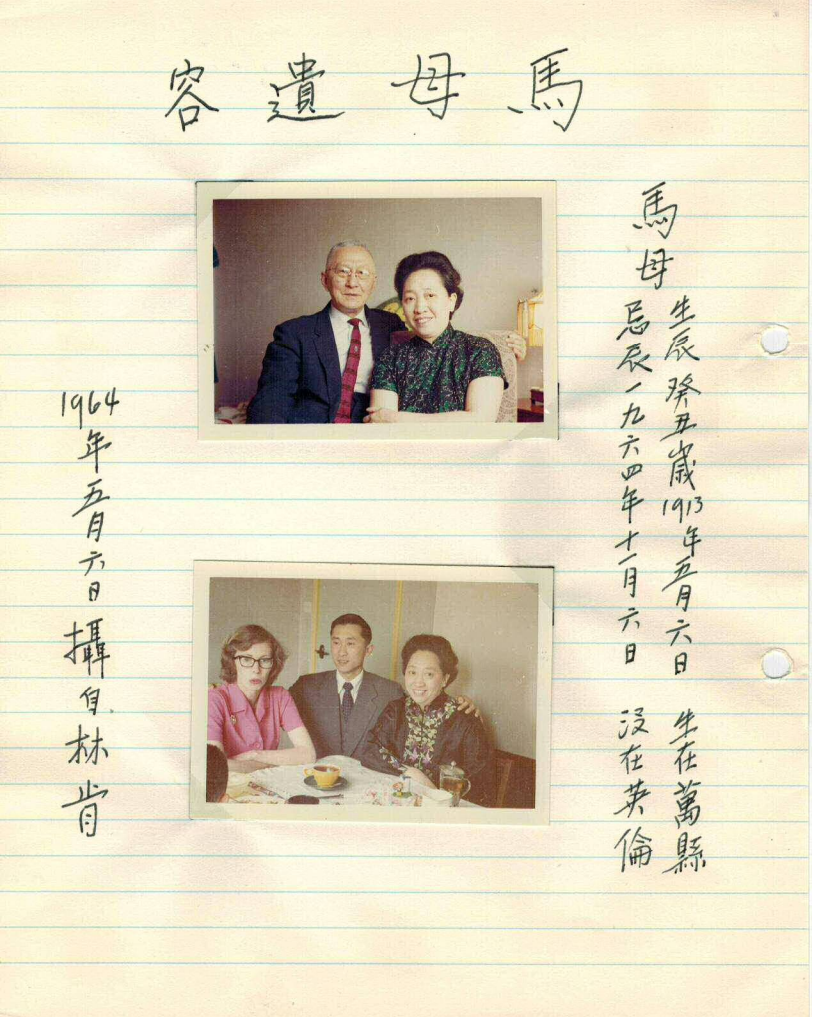 Mother Ma
Born May 6, 1913 in Wanxian (萬縣)
Died November 6, 1964, not in England
Photo taken on May 6, 1964 in Lincoln.
Lamentation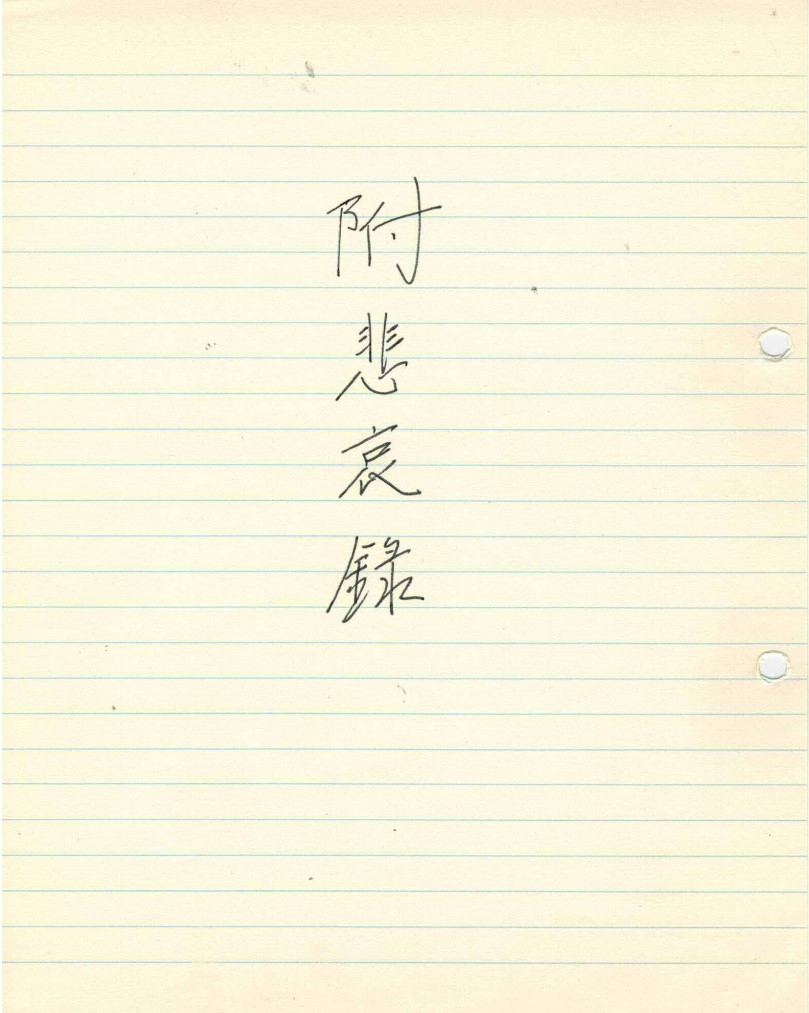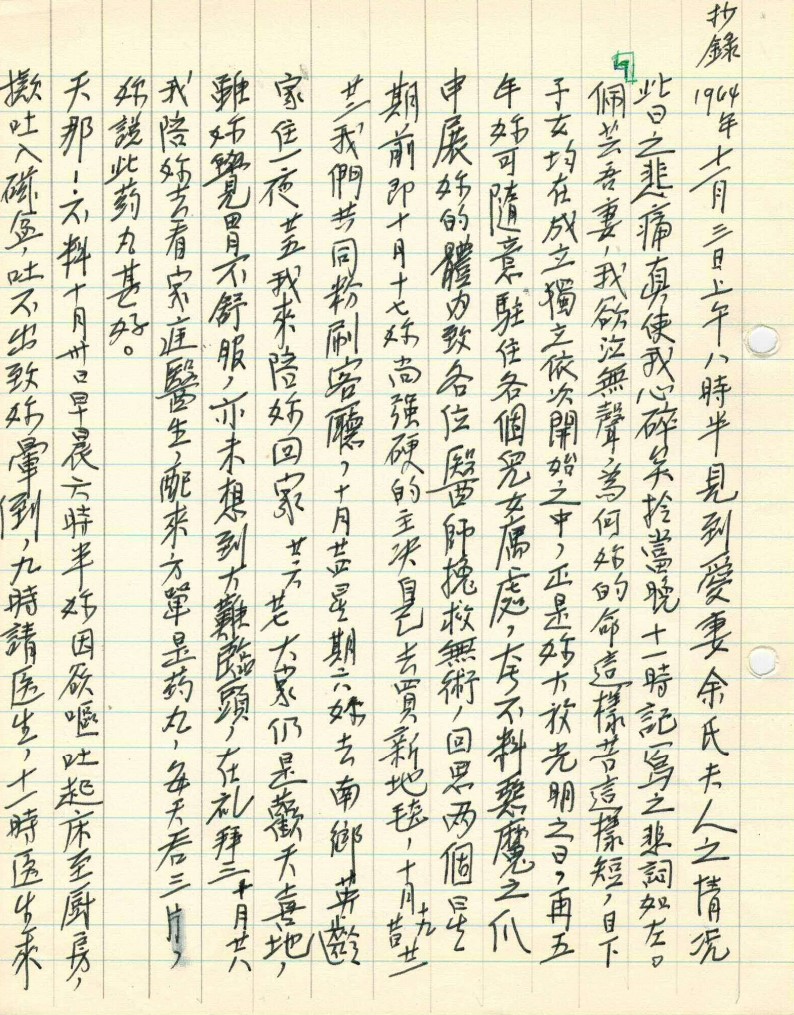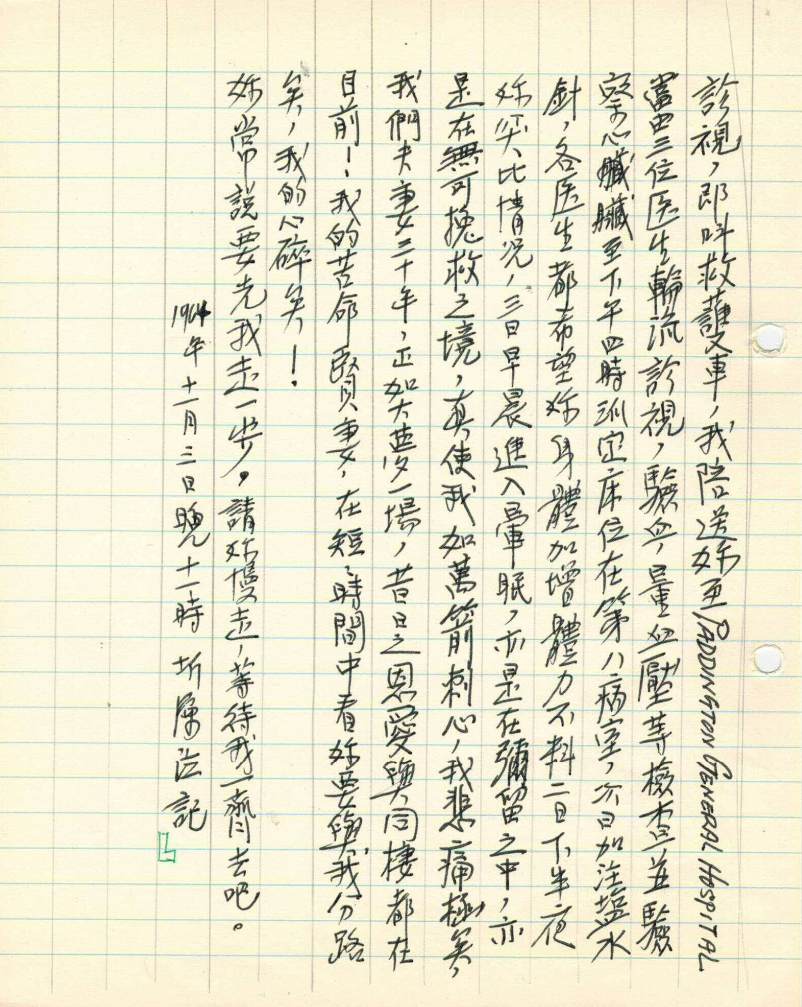 Copy:
At 8:30 in the morning on November 3, 1964, I saw the situation of my beloved wife Yue. The grief that day broke my heart. At 11 o'clock that night, I wrote these sad words:
Paiyung, my wife, I want to cry silently, why is your life is so bitter and so short? Our children are all, in turn, establishing their independence. It is your time to shine. In five years, you can live freely at each of our children's homes. Unexpectedly, it seems the evil spirit's hands have claimed your body and the doctor is unable to save you. I recall just two weeks ago on October 17th, you made the difficult decision to go in person to buy a new carpet. On October 19th, 20th, 21st, 22nd, we painted the living room together. On Saturday, October 24th, you stayed at Evelyn's (英齡) house in Nanxiang (Southampton?) for one night. On the 25th, I came and accompanied you home. On the 26th and 27th, everyone was still happy. Although you had stomach pain, we never thought it would be an imminent disaster. On Wednesday October 28th, I accompanied you to the family doctor who prescribed pills for you to take by mouth three times a day. You said the pills were helping.
My God! Unexpectedly, at 6:30am, the morning of October 30, you felt nauseous so you got up and went to the kitchen. You intended to vomit into the basin but, unable to vomit, you fainted. I called the doctor at 9 o'clock. The doctor said he would meet you at 11 o'clock. We immediately called for an ambulance, and I accompanied you to Paddington General Hospital. Three doctors took turns examining, doing blood tests, blood pressure measurements, etc., and checked and examined your heart. At 4:00 in the afternoon, a bed was assigned to you in the eighth ward. The next day they inserted an IV saline drip. Every doctor wished for you to improve your strength. Unexpectedly on the second day, in the middle of the night, you took a turn for the worse. On the morning of the third day, you fell into a coma. You are dying, in a terminal state. I feel like ten thousand arrows are stabbing my heart. I am extremely sad. Our thirty years as husband and wife, like a big dream, our love and our life together, flashes in front of my eyes. My hard-working and good wife, seeing that you will leave me shortly, my heart is broken!
You often say that you want to go first. I'm begging you to go slowly. Wait for me so that we may go together.
At 11 o'clock in the evening on November 3, 1964, Henry's (圻源) Weeping Record"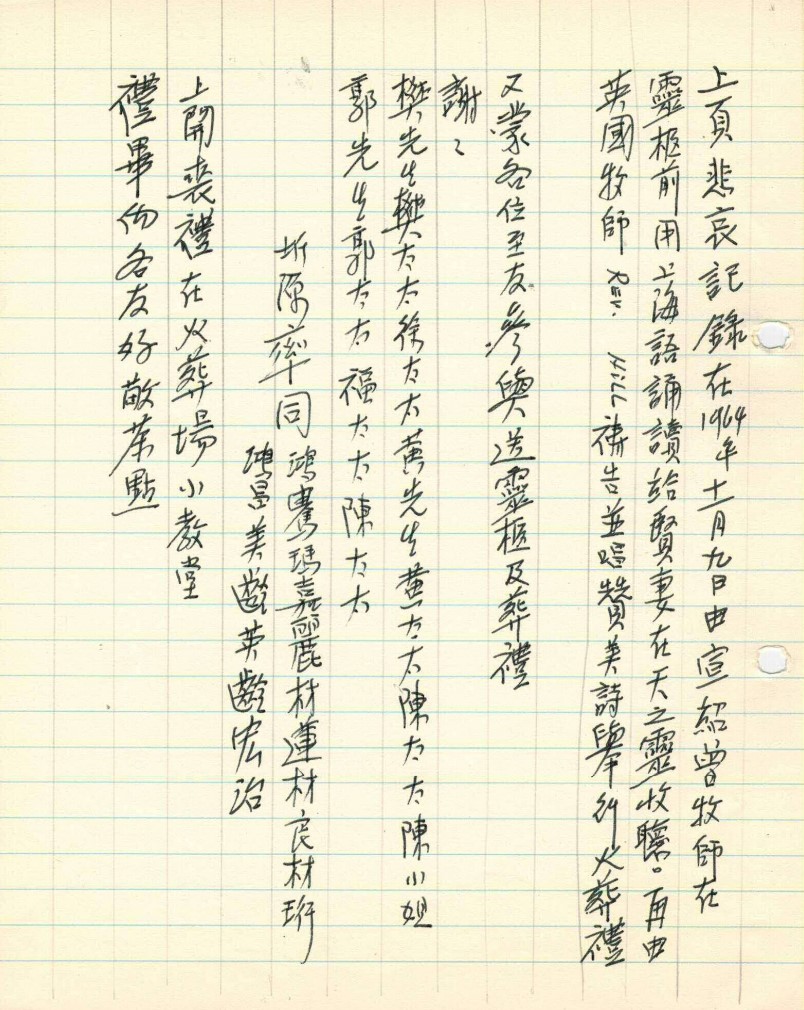 The lamentation recorded on the previous page was read in Shanghainese by Pastor Xuan Shaozeng in front of the casket on November 9, 1964 for the good wife in heaven to hear. Then, the British pastor Reverend Hill prayed and sang hymns for cremation.
All the good friends were invited to participate in sending the casket for cremation.
Thank you:
Mr. Fan, Mrs. Fan, Mrs. Xu, Mr. Huang, Mrs. Huang, Mrs. Chen, Miss Chen, Mr. Guo, Mrs. Guo, Mrs. Fu, Mrs. Chen.
Henry's descendants:
Hongqian, Ma Jiali, Cailian, Cailiang, Caiheng
Hongchang, Meiling, Yingling, Hongzhi
The funeral was held in the small auditorium of the crematorium
After the ceremony, everyone was friendly and offered refreshments.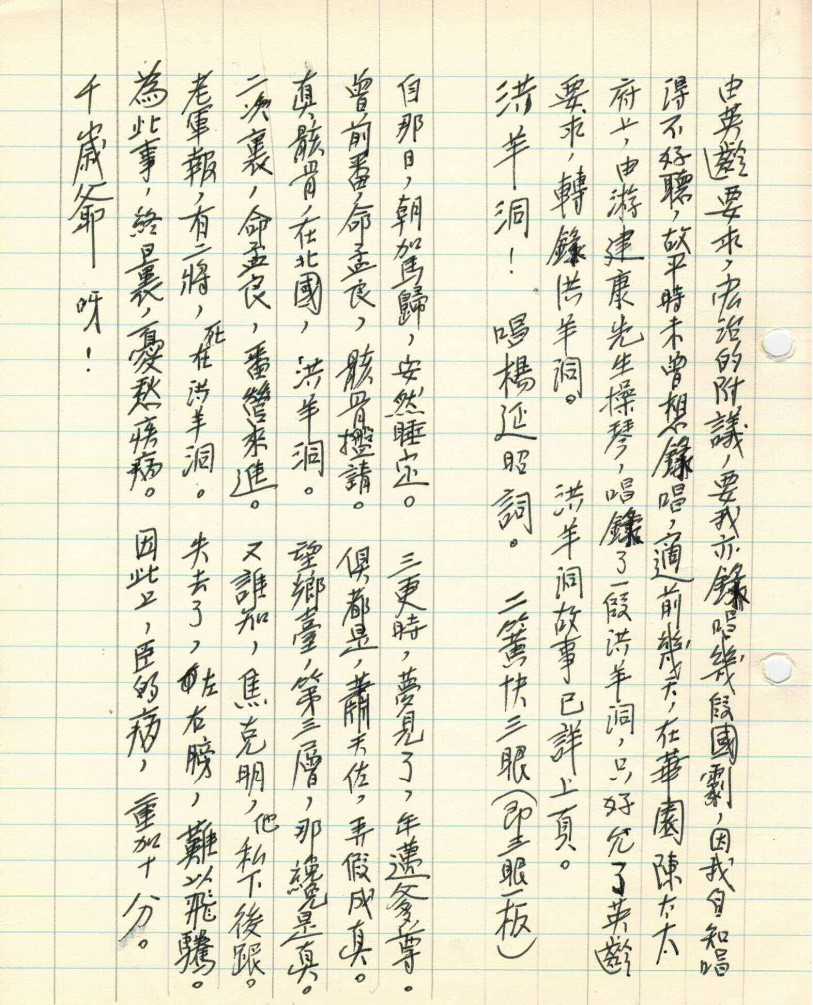 At the request of Evelyn and seconded by Mickey, I was asked to sing and record a few Chinese operas. I never wanted to record my singing because I know that I don't sing well. However, just a few days ago, in the garden of Mrs. Chen's home, with the accompaniment of Mr. You Jiankang on erhu, I sang and recorded a section of "Hongyang Cave". This fulfilled Evelyn's request.
The story of "Hongyang Cave" has been detailed on the previous page.
"Hongyang Cave"! Sing Yang Yanzhao's poems, two springs and three eyes Since that day, he returned home and fell asleep peacefully. At the third watch, I dreamed of being old. Zeng Qianfan, ordered Meng Liang, bones please. All are, Xiao Tianzuo, the fake has come true. Real skeletons, in the Northland, Hongyang Cave. Wangxiang Terrace, third floor, that's true. In the second time, Meng Liang was ordered to come in with Fanying. I don't know who, Jiao Keming, he followed in private. Laojun Bao, there were two generals who died in Hongyang Cave. Lost, it's hard to fly. For the North, all day long, sad and sick. Therefore, the minister's illness has increased by ten. I Lord Chitose!
(Editor's note: The above poem is translated by Google Translate, likely full of error.)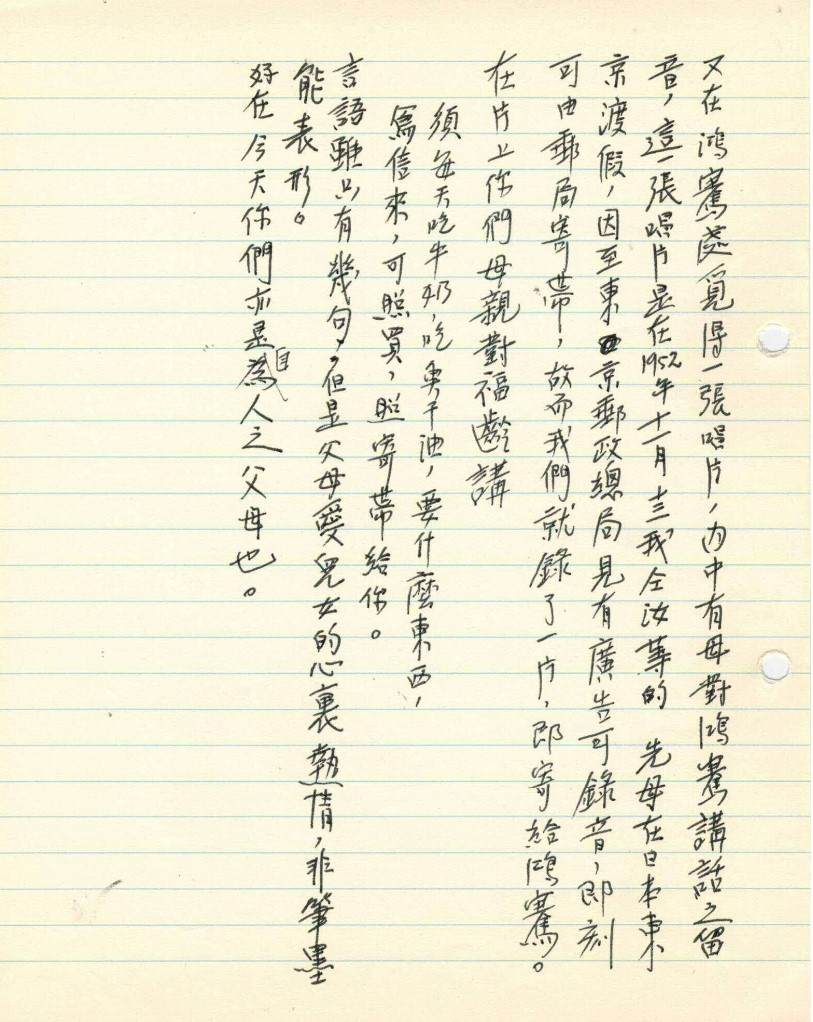 I found another recording at Alec's place. In it, there is a recording of mother speaking to Alec. It was recorded on November 13, 1952. We were on vacation in Tokyo, Japan. At the Tokyo Post Office, there was an advertisement about audio recordings that could be done and sent by the post office immediately. So we recorded one and sent it to Alec. In the recording, your mother said to Alec: "You must drink milk and take fish oil every day. If you need anything, write to us, we will buy it and send it to you."
Although it's only a few words, the heart-felt parental love is expressed beyond written expression.
Fortunately, today you are also parents.
Mother Marr Matriarch Yue – Her sound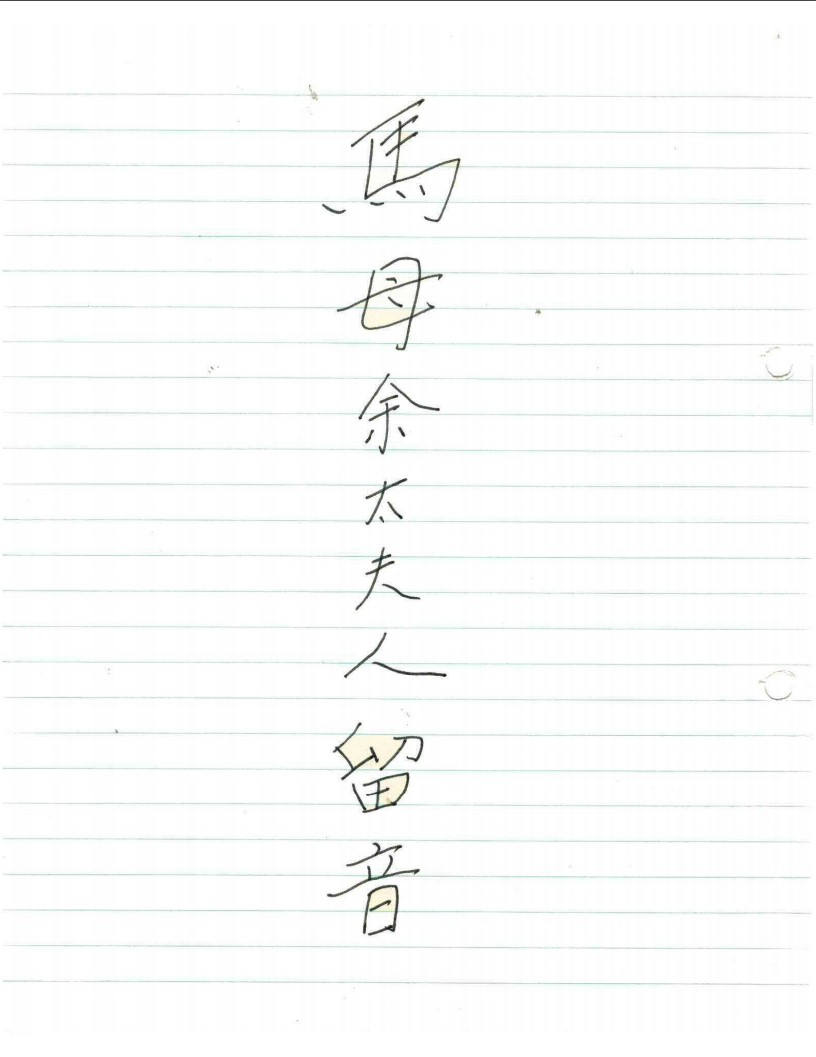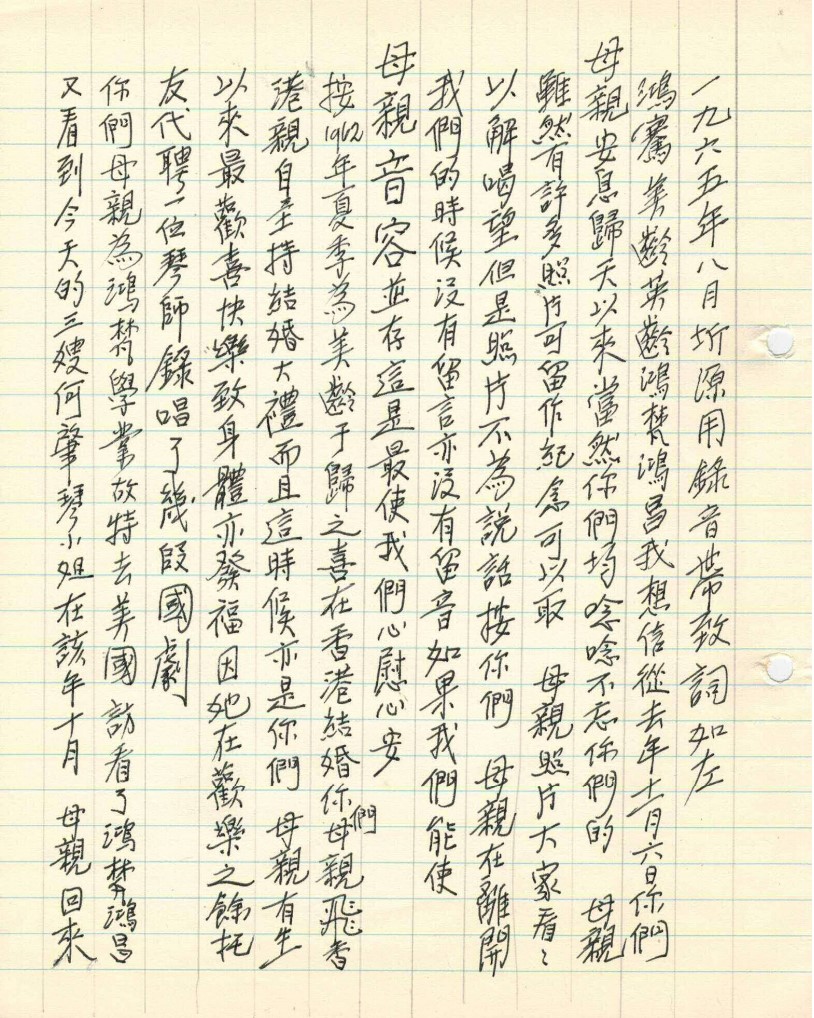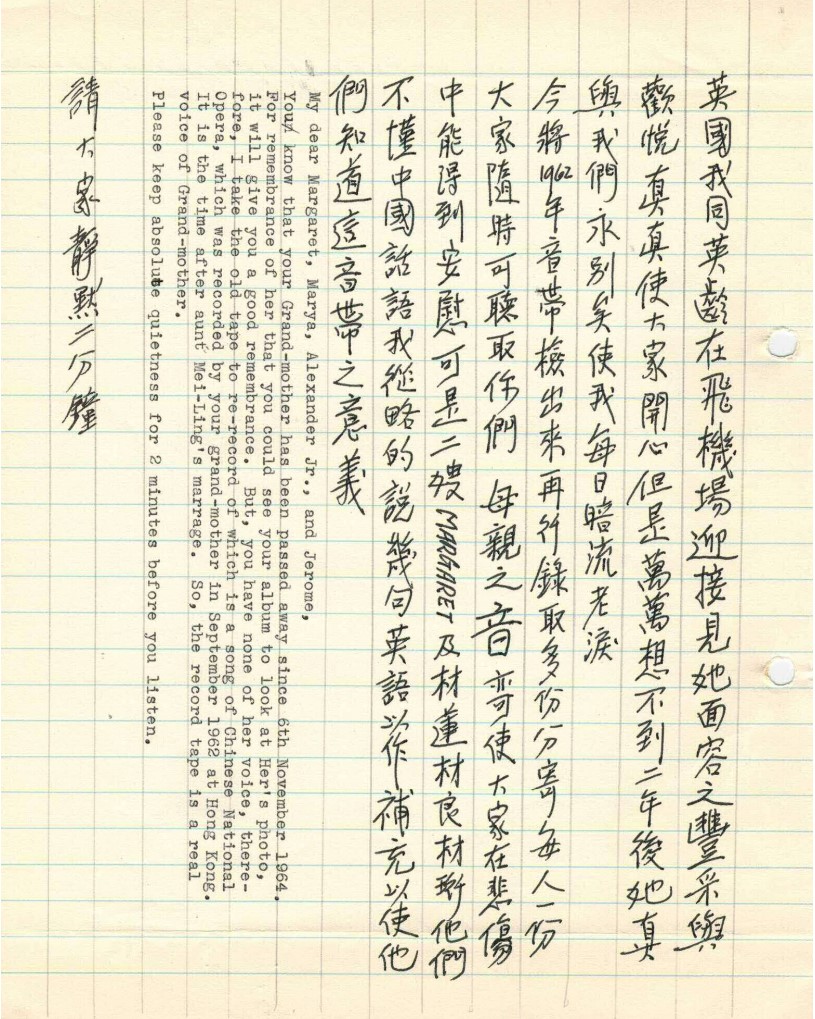 In August 1965, Henry delivered a speech on tape as follows:
Hongqian, Meiling, Yingling, Hongfan, Hongchang, your mother returned to heaven on November 6th last year and of course I know that you will never forget your mother. Although you have many photos to keep as a remembrance of her, and you may gaze upon these whenever you desire, these photos do not recall the sound of her voice speaking to you. As mother was leaving us, she left no last messages or voice recordings. If we could merge mother's voice and face, this could be more comforting to us.
In the summer of 1962, your mother flew to Hong Kong for Meiling's joyful wedding. Your mother hosted the wedding ceremony personally. This was the happiest time of your mother's life. Happiness makes one's body healthy. Because of her overflowing joy, she hired an erhu accompanist to record and sing several pieces of Chinese opera.
At George's urging, your mother looked into going on a special trip to the United States to visit George and Ted, and meet the person who would be today's third sister-in-law, Ms. He Zhaoqin (Alice). In October of that year, mother returned to England. When Evelyn and I greeted her at the airport, her face was so full of abundant joy that it made everyone feel truly happy. However, unthinkably, only two years later she would say goodbye to us forever, causing me to shed tears every day.
Today, we will listen to the 1962 tapes, make multiple copies of the recording, and send one copy to each person. Now you can listen to your mother's voice at any time; it may be a comfort in your grief. However, second sister-in-law Margaret and Marya, Alexander Jr., and Jerome do not understand Chinese. I will say a few words in English for them so that they know the meaning of this audio tape.

Please be quiet for two minutes.
Peking Opera
Editor's note: Starting on this page and continuing to the end of the document, Henry writes out the Peking opera lyrics in full (from the audio recording), including the melody and beats/rhythms, followed by an explanation of the lyrics (history, background, meaning). From here to the end of the document, the translations are done by Google Translate. In many cases, only the explanatory paragraphs were translated into English. The Peking Opera lyrics themselves were left untranslated as I felt that Google's automated translations would be rendered garbled/meaningless due to the highly poetic style.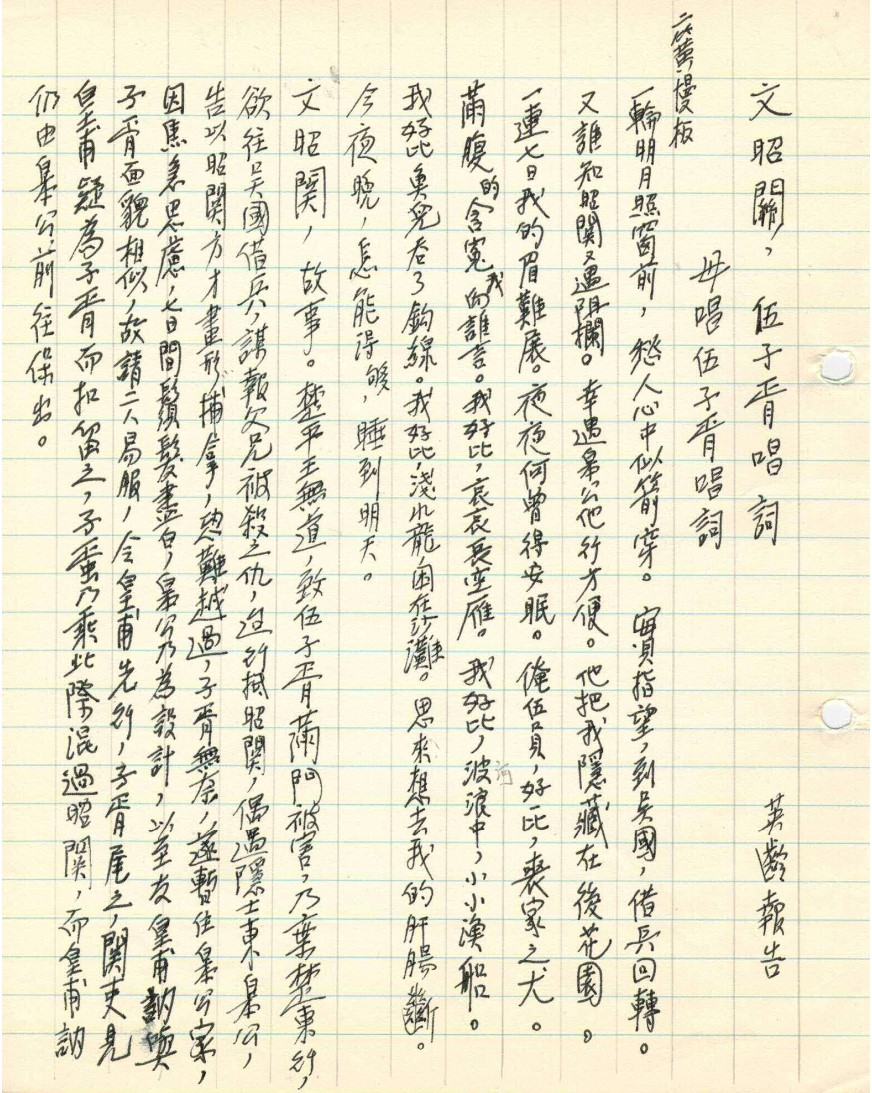 (Editor's note: This page is translated by Google Translate. No effort was made to fix errors.)
"Wenzhaoguan"
Wu Zixu's lyricist
Yingling Report
Mother sings Wu Zixu's lyrics
(Two spring slow board)
A bright moon shone in front of the window, and an arrow pierced through the sad heart. I really hope that I will return to the country of Wu. Who knows that Zhaoguan meets and blocks again. Fortunately, it is convenient for Gao Gong to travel. He hides me in the back garden. My eyebrows were difficult to stretch for seven consecutive days. Never sleep well every night. My team member, it's a comparison, a bereaved dog. I'm full of grievances, to whom do I tell. I am like a mourning goose in the sky. I am like a small fishing boat in the waves. I'm like a fish swallowing a hook thread. I am like a shallow water dragon, stuck on the beach. Thinking about going to my heartbroken. How can I get it tonight, enough to sleep until tomorrow.
The story of "Wenzhaoguan":
The king of Chu Ping was innocent and caused Wu Zixu's whole family to be murdered. He wanted to go to the country to borrow troops and seek revenge for the murder of his father and brother. He traveled to Zhaoguan, and met the hermit Dong 𦤎gong, and told Zhaoguan to arrest him. Take it, fearing that it will be difficult to cross, Zixun has no choice, and temporarily stayed at 𦤎's house. Because of anxious thoughts, his beard was completely white in seven days. 𦤎Duke was designed, so that the faces of friends Huangfuna and Zixu are similar. Go first, son Xu Weizhi, Guan officials saw Huangfu suspected of being Zixu and detained him. Zixu took advantage of this time to cross Zhaoguan, and Huangfune was still sent to save Huangfu.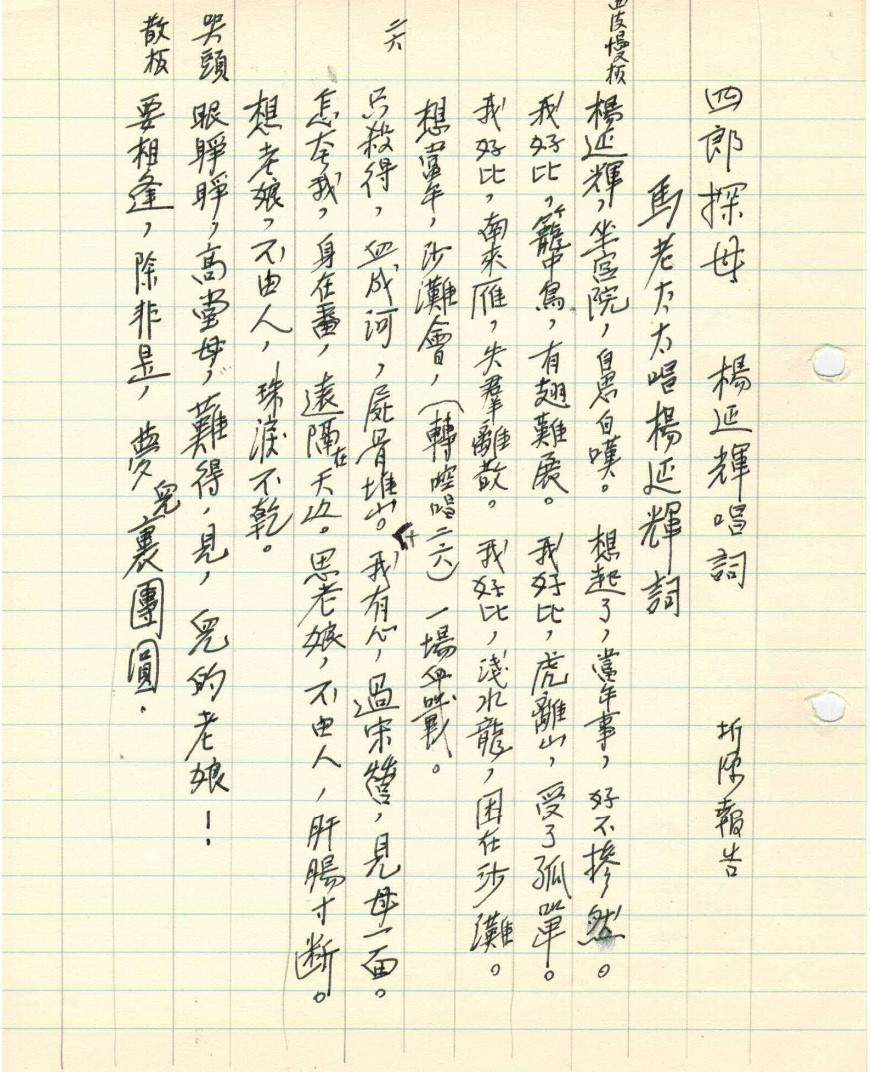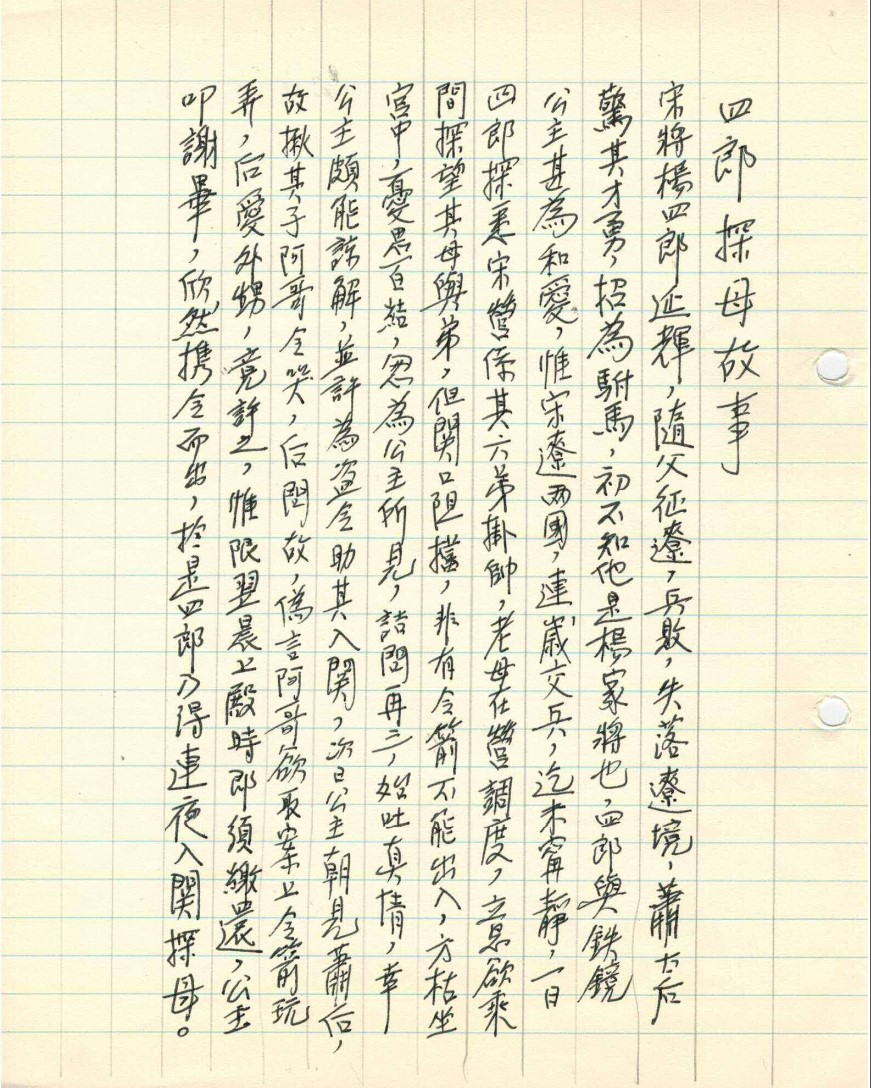 (Editor's note: This page is translated by Google Translate. No effort was made to fix errors.)
Take the story of "Shiro's Visiting Mother":
Song general Yang Shilang Yanhui, followed his father to conquer the Liao, was defeated, and lost in the Liao region. Empress Dowager Xiao was shocked by his bravery and recruited as a husband. At first I didn't know that he was the general of the Yang family. Shiro and Princess Tiejing were very friendly. Only Song and Liao, the two countries, have been fighting each other year after year. It has not been quiet. One day, Shiro found out that Song Ying was his sixth brother in charge, and his mother was in the camp. He wanted to visit his mother and younger brother by the pass, but the barrier was blocked. Fang Ku was sitting in the palace, worrying about everything, and suddenly he was seen by the princess. He repeated the interrogation and began to express his true feelings. Fortunately, the princess was able to forgive him and allowed him to enter the customs as a thief order. The next day the princess met Xiao Empress. , So I grabbed his son and made crying, and asked the truth later, the false statement that the elder brother wanted to take the elder brother to play with his nephew, and later loved his nephew, bid for it, but only paid back when he went to the palace the next morning. The princess thanked him and took it with pleasure Ling came out, so Shi Lang Naide, went to visit his mother overnight.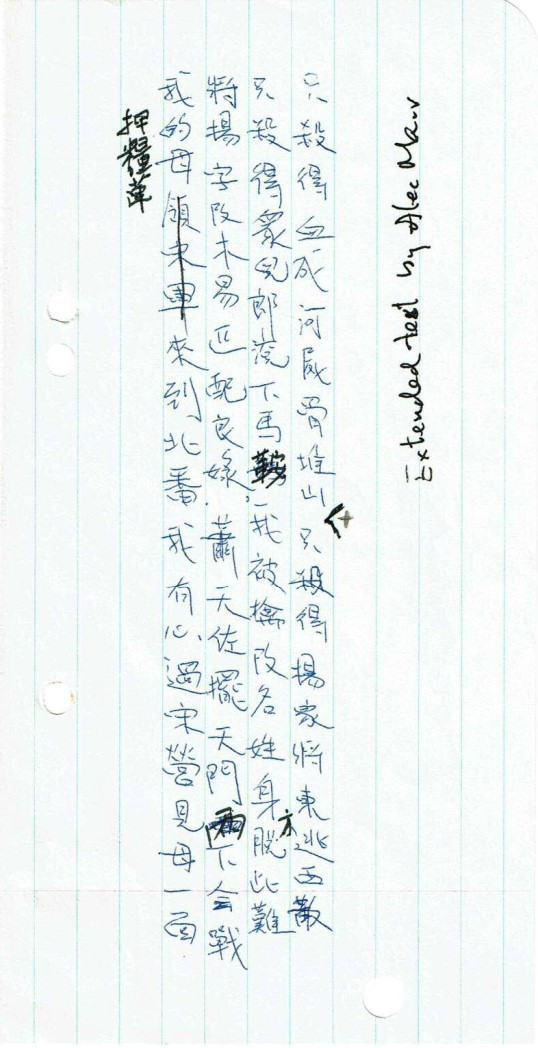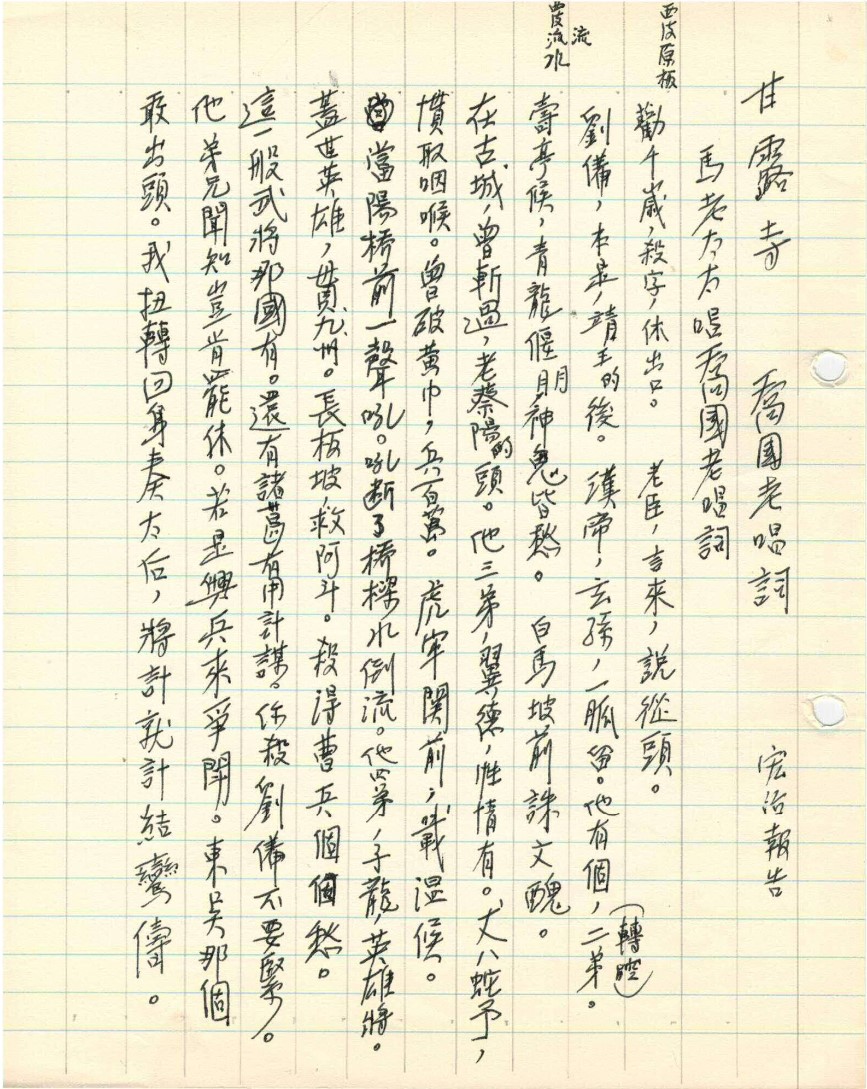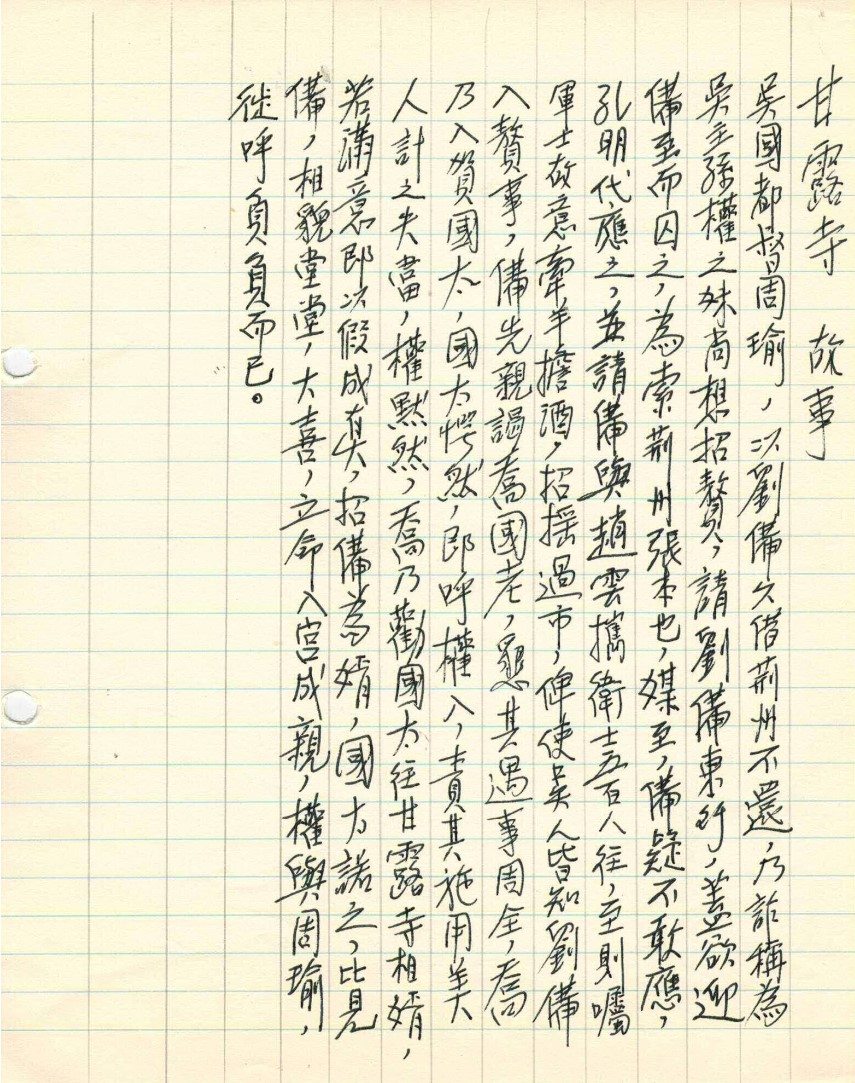 (Editor's note: The following is translated by Google Translate. No effort was made to fix errors.)
The story of Ganlu Temple:
The governor of the State of Wu, Zhou Yu, claimed that Liu Beijiu borrowed from Jingzhou and did not repay it. She was deceived as the sister of Lord Wu and Sun Quan and wanted to recruit. Doubtful, Kong Ming responded to it, and please prepare to go with Zhao Yun and five hundred guards. At the end, he asked the sergeant to deliberately lead the sheep and carry the wine to sway the city, so that everyone in Wu would know that Liu Bei was involved in the incident, and he was prepared to personally visit Qiao Guo. Old, I beg to be considerate, Qiao Nai entered He Guotai, Guotai was stunned, that is, he called for the right to enter, and blamed him for misappropriating beauty. The power was stunned, Qiao Nai persuaded Guotai to go to Ganlu Temple to meet her son-in-law. Really, recruiting as a son-in-law, the country is too promised, compared to the preparations, looks dignified, overjoyed, decided to enter the palace and get married, Quan and Zhou Yu, just call negative.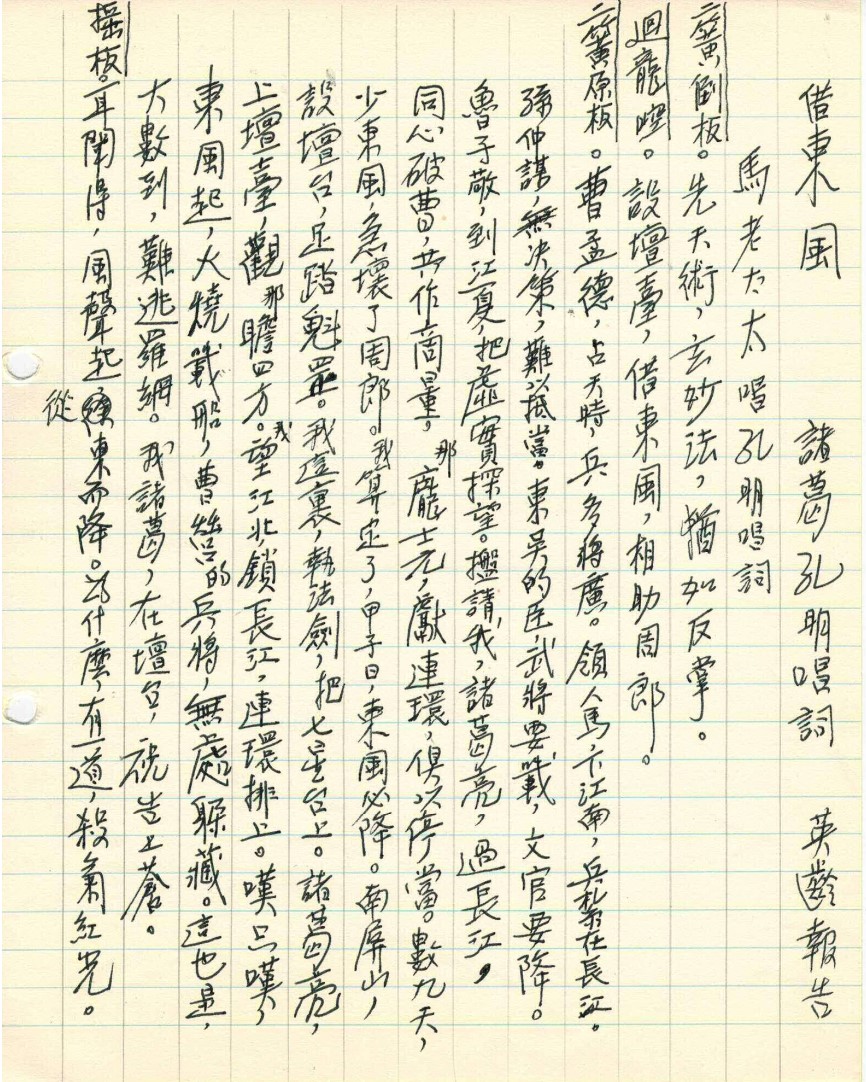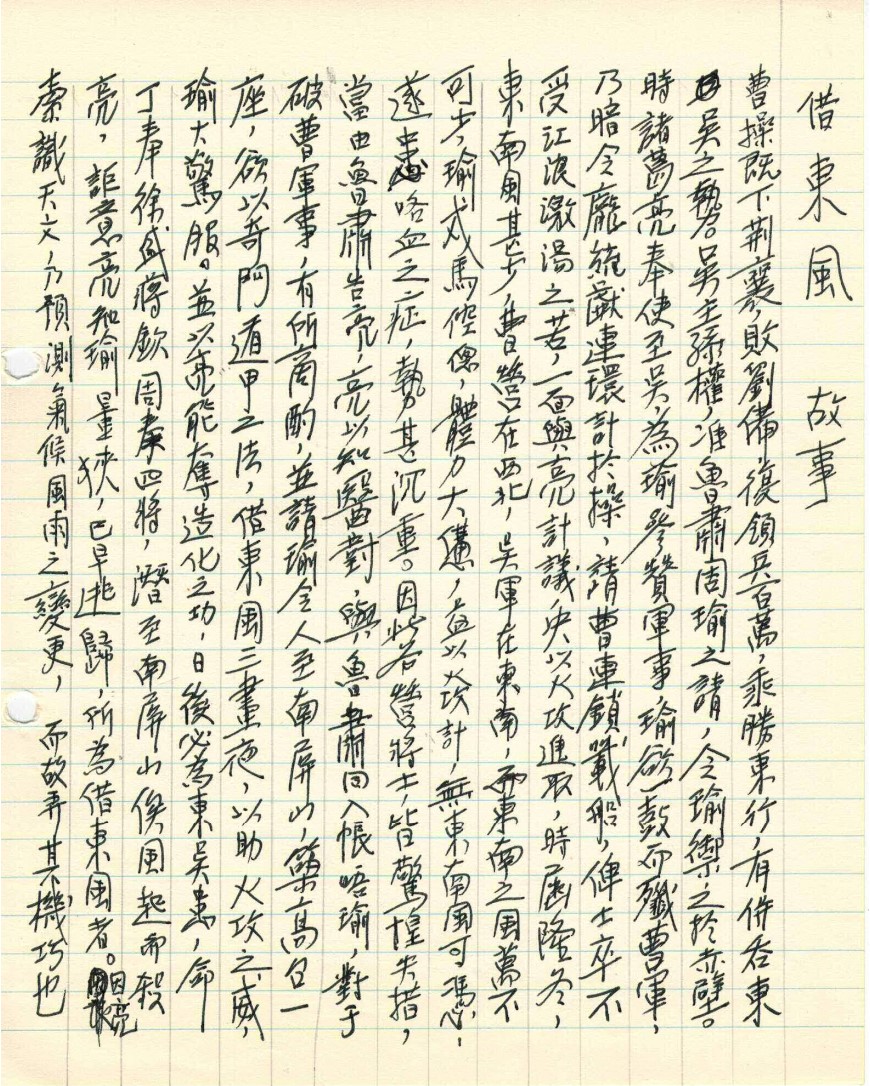 (Editor's note: The following is translated by Google Translate. No effort was made to fix errors.)
"Borrowing the East Wind" Story:
Cao Cao went down to Jingxiang, defeated Liu Bei, and regained a million soldiers. By winning eastward, Cao Cao might annex Dongwu. The Lord of Wu, Sun Quan, requested Lu Su and Zhou Yu to make Yu Yu Yu Chibi. When Zhuge Liang was envoy to Wu, he served as Counselor for Yu's military affairs, and Yu wanted to kill Cao's army. This is to make Pang Tongxian a series of calculations, and ask Cao to chain the warships, so that the soldiers will not suffer from the turmoil of the waves. On the one hand, they discussed with the bright plan, and decided to attack with fire. The winter is coming, and there is very little southeast wind. Cao Ying is in the northwest, Wu Jun is in the southeast, and the southeast wind is indispensable. The Yu Rong horse is graceful, physically exhausted, and uses fire to attack. There is no southeast wind to rely on. Suffering from hemoptysis, he was very serious. Therefore, the soldiers of all battalions were panicked, When Lu Su tells it, it's clear to know that the doctor is right, and Lu Su returns to the account to meet Yu. Have some discussion, and ask you to come to Nanping Mountain to build a high platform, I want to use the Qimen Dunjia method to help the fire attack by the east wind for three days and nights, Yu was shocked. And to win the merits of good luck with bright energy, it will be a trouble for Soochow in the future, The four generals Ding Feng, Xu Sheng, Jiang Qin, and Zhou Qin were ordered to dive to the Nanping Mountain and kill them when the wind rose. The true meaning is bright, knowing that the amount of yoga is narrow, and he has already fled and returned. It is also ingenious to learn about astronomy, which is to predict the changes in climate, wind and rain.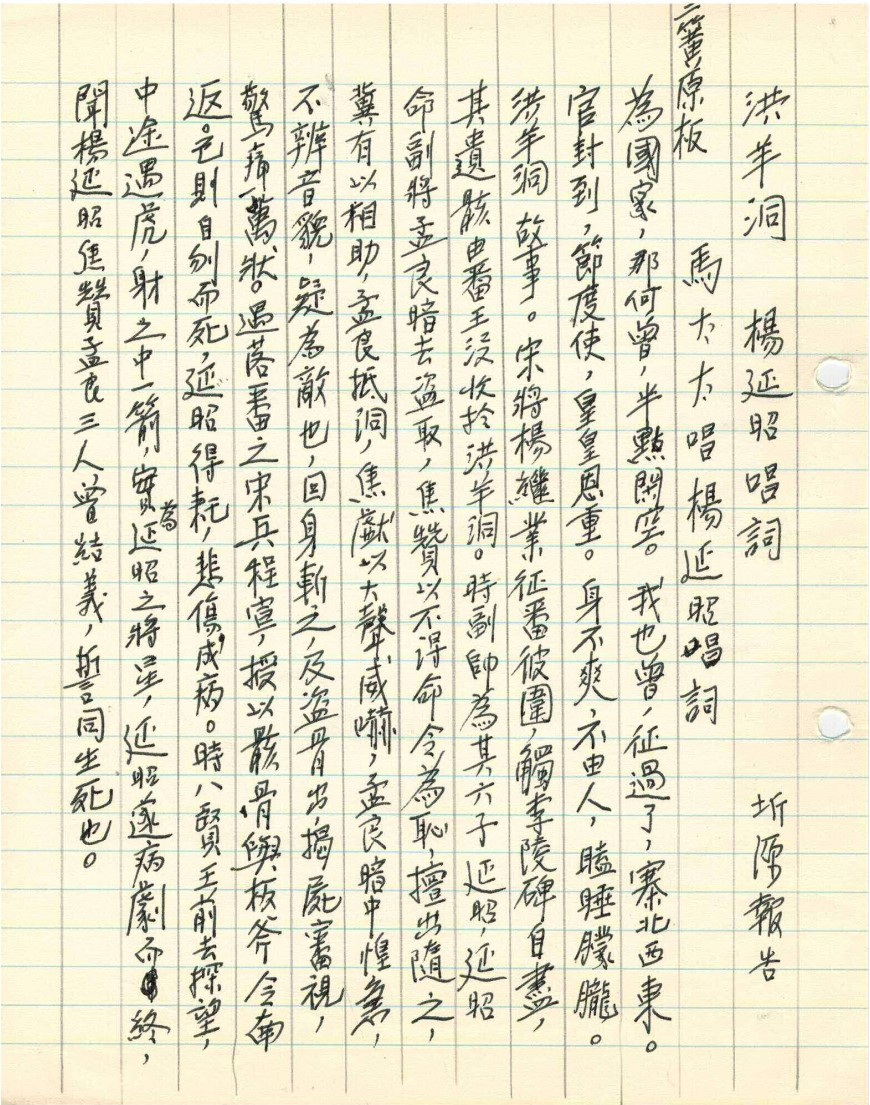 (Editor's note: The following is translated by Google Translate. No effort was made to fix errors.)
"Hongyang Cave"
Yang Yanzhao sang lyrics Qiyuan report
Mrs. Marr sings Yang Yanzhao's lyrics
(Two reed original boards)
For the country, then why, the slightest idle time, I have also been, I have been, Zhai Beixidong. The official appointment, Jiedushi, the emperor's grace. The body is uncomfortable, involuntary, sleepy dimly. The story of Hongyang Cave. Song Jiang Yang Jiye conquered him, touched the Li Ling stele and committed suicide. The remains were confiscated by King Fan in Hongyang Cave. Deputy Commander Shi Yanzhao is his six son, Yan Zhao ordered deputy general Meng Liang to steal it secretly, but Jiao Zan was ashamed of not being able to order, and followed without permission. Ji Youyi helped each other, Meng Liang arrived in the cave, Jiao Xian threatened loudly, and Meng Liang was anxious in secret. I don't know the sound and appearance, I'm suspected of being an enemy, turn around and cut it, steal the bones out, and examine the body. Panic. Yu Luofan's Song Bingcheng Xuan, awarded the skeleton and axe to return south. Already suffocated himself to death, prolonged and exhausted, and became sick with grief. When the eight wise kings went to visit, Encountering a tiger in the middle, shooting an arrow in the middle, is really the star of Yanzhao, and Yanzhao ended in a serious illness. Hearing that Yang Yanzhao, Jiao Zan, and Meng Liang had made a confession and vowed to live and die together.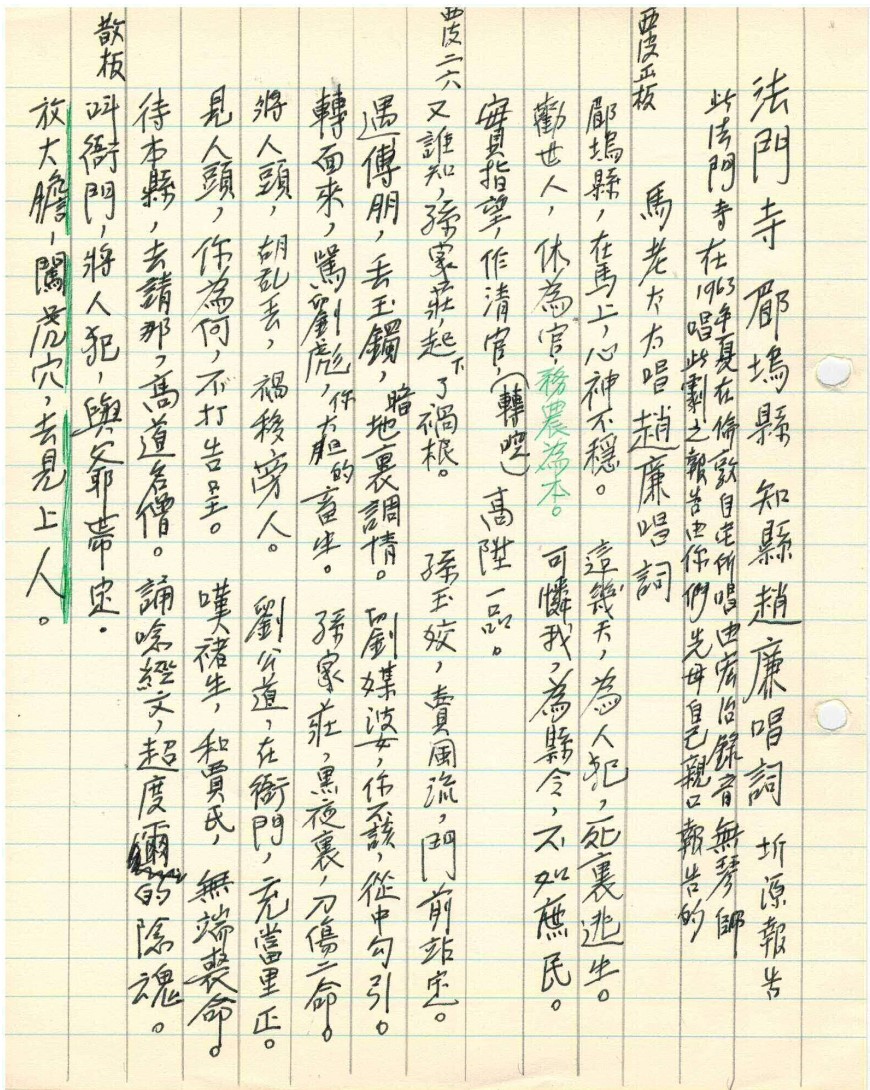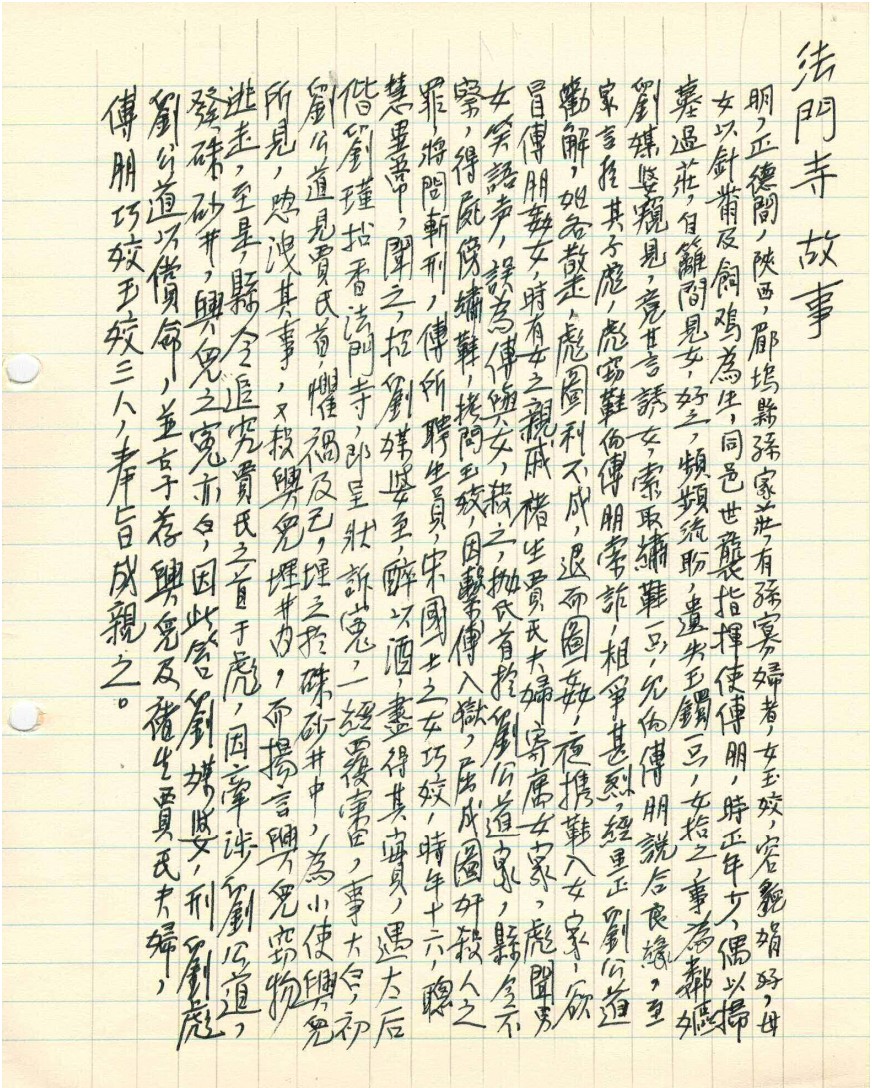 (Editor's note: The following is translated by Google Translate. No effort was made to fix errors.)
The story of Famen Temple:
Ming Dynasty, Zhengde, Sunjiazhuang, Yinwu County, Shaanxi. Those with grandchildren, widows, beautiful women, beautiful appearance, mothers and daughters make a living by stitching and feeding chickens, Fu Peng, the hereditary commander of the same town, Shizheng was young, and occasionally saw the grave When I went to the village, I saw a woman from the fence, she was good, she ran away frequently, she lost a jade bracelet, and the woman picked it up. The matchmaker Liu saw it for her neighbor, but she was willing to seduce her, and asked for an embroidered shoe. Fu Peng agreed to a good relationship. , The family is light, his son Biao, Biao steals shoes and asks Fu Peng for fraud. The fight is fierce. After Liu Gongdao persuades them, they all go away. Biao is not profitable. Female family, wanting to pretend to be friends and adulterous women, sometimes there are relatives of women, Chu Sheng, Jia's couple, send them to "Yu Nu's family, Biao heard the laughter of men and women, mistakenly named Fu and Daughter, killed them, and threw their bodies at Liu Gongdao. Home, the county magistrate did not check, got the corpse and embroidered shoes, tortured Yujiao, because he was sent to prison, Qu Cheng attempted to rape and murder, will be executed, Fu recruited a student, the daughter of Song Dynasty scholar Qiaojiao, at the age of sixteen , Clever, heard of it, recruited Liu matchmaker, drunk with alcohol, and got the best of reality. When the empress dowager and Liu Jin took incense at Famen Temple, he would file a complaint. Once retrial, the matter became clear. At first, Liu Gongdao saw Jia's head and feared himself. , Buried in the cinnabar well, as seen by the young envoy Xing'er, fearing to let go of the matter, killed Xing'er and buried it in the well, but Xing'er stole the property and escaped. The county magistrate pursued Yu Biao, the head of the Jia family. Because of his involvement in Liu Gongdao, he sent a cinnabar well, and Xing'er's injustice was also vain. Therefore, he slapped Liu matchmaker, punished Liu Biao and Liu Gongdao to pay for his life, and enjoyed Cun Xing'er, Xi Sheng and Jia family , Fu Peng, Qiaojiao, and Yujiao were ordered to get married.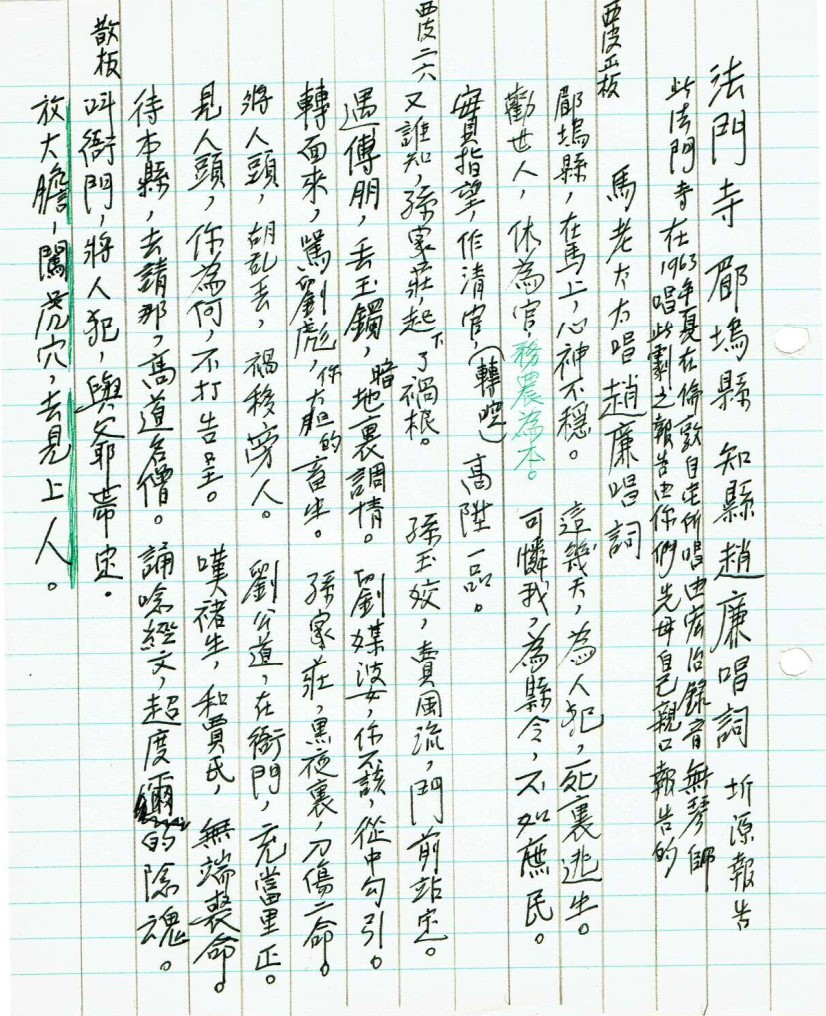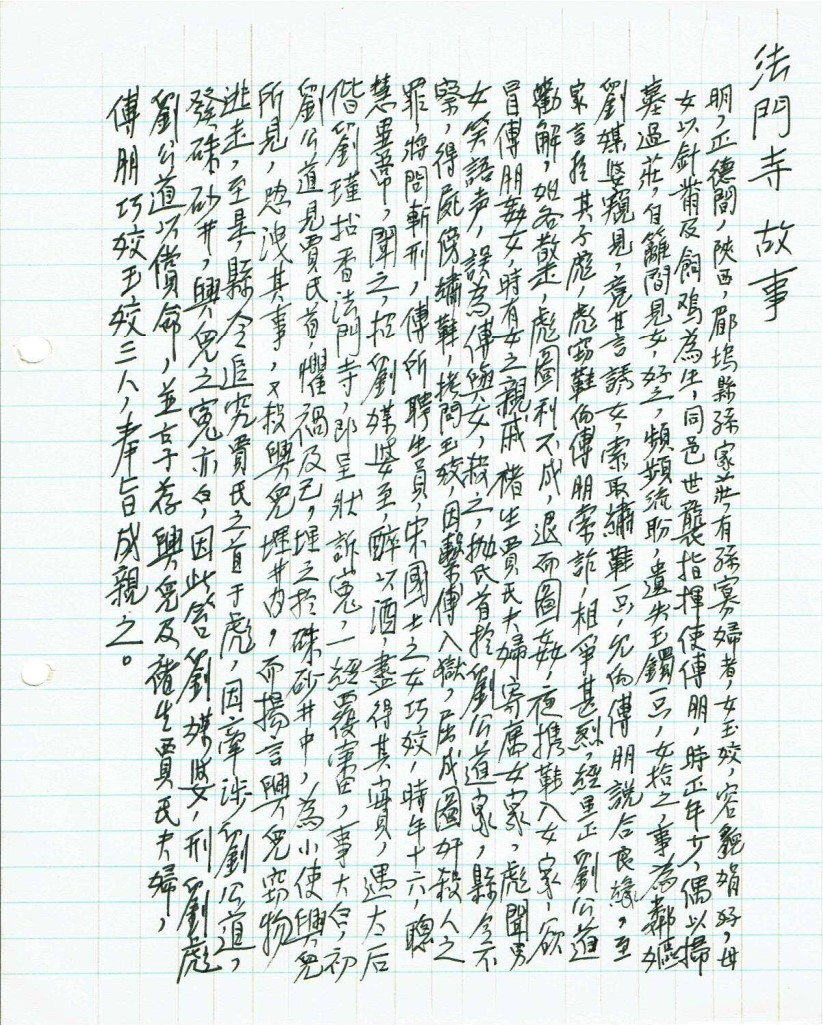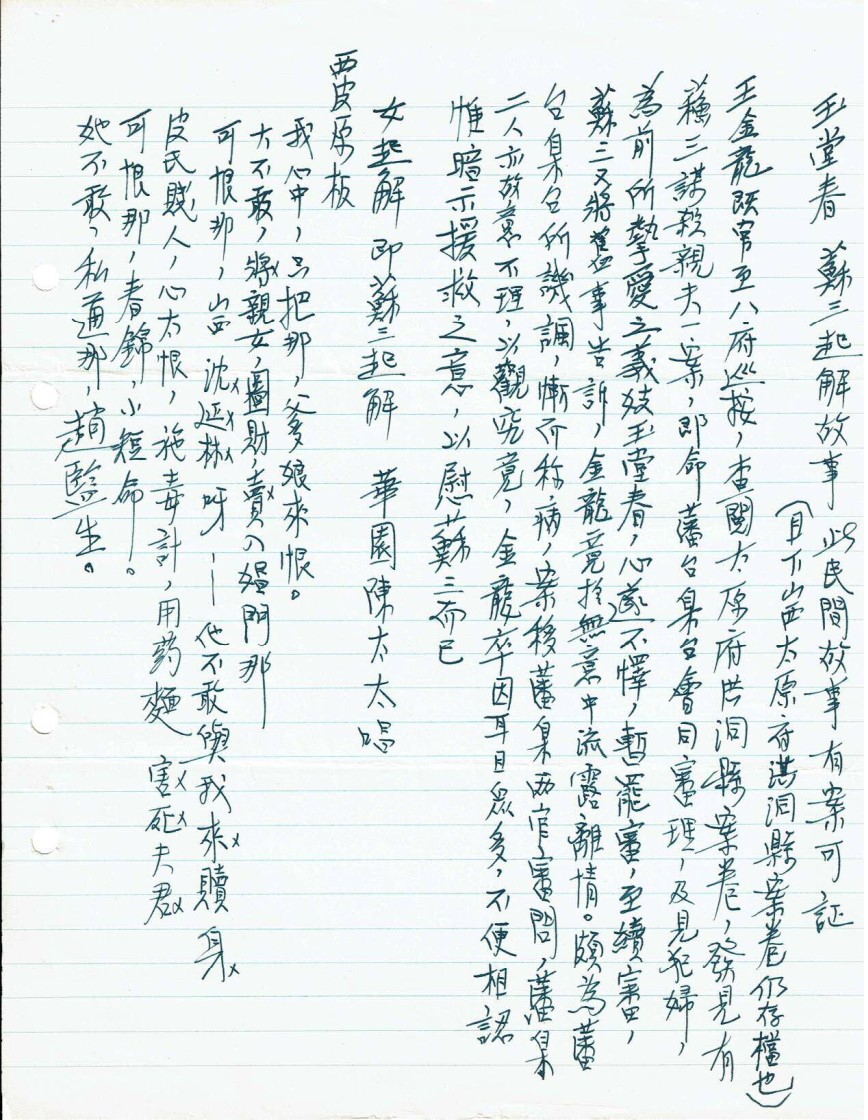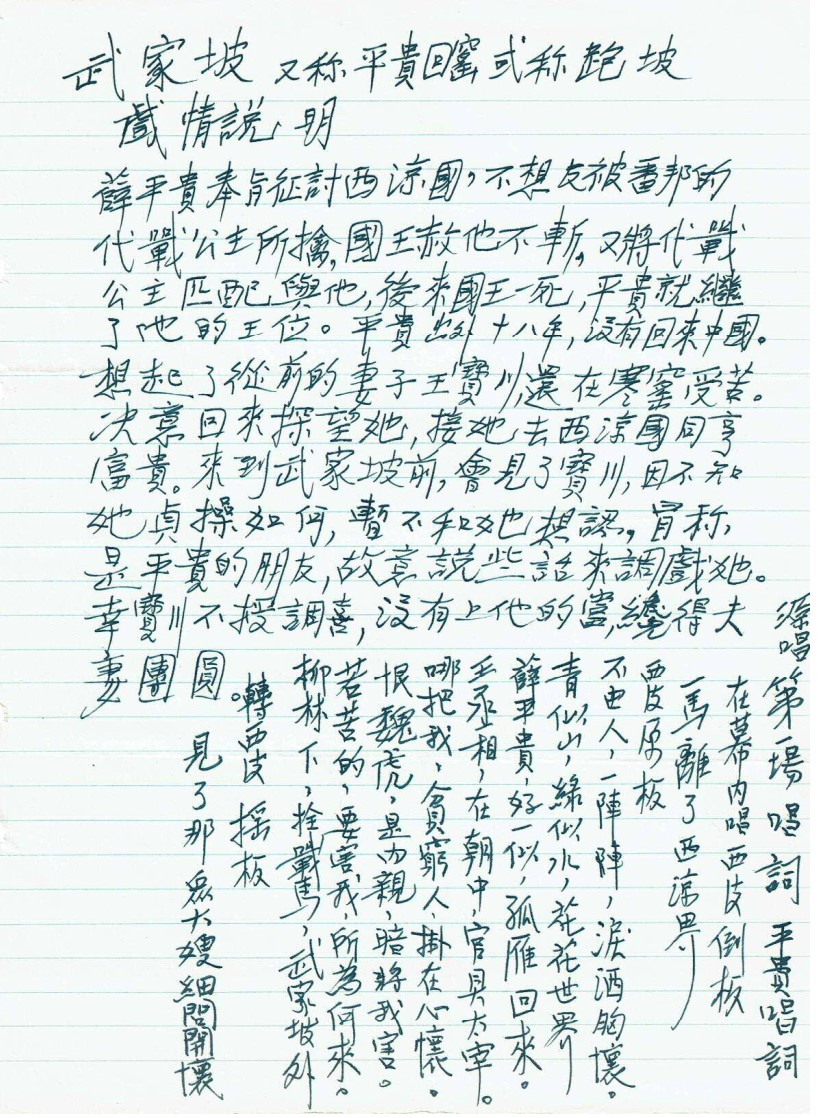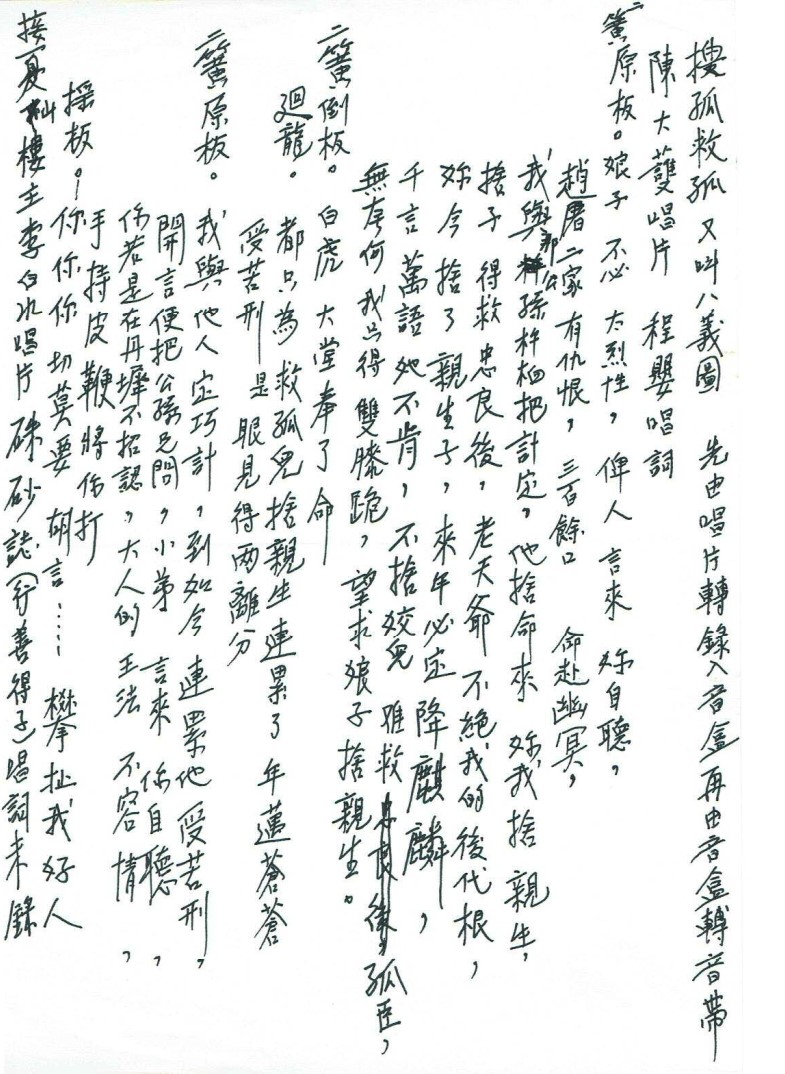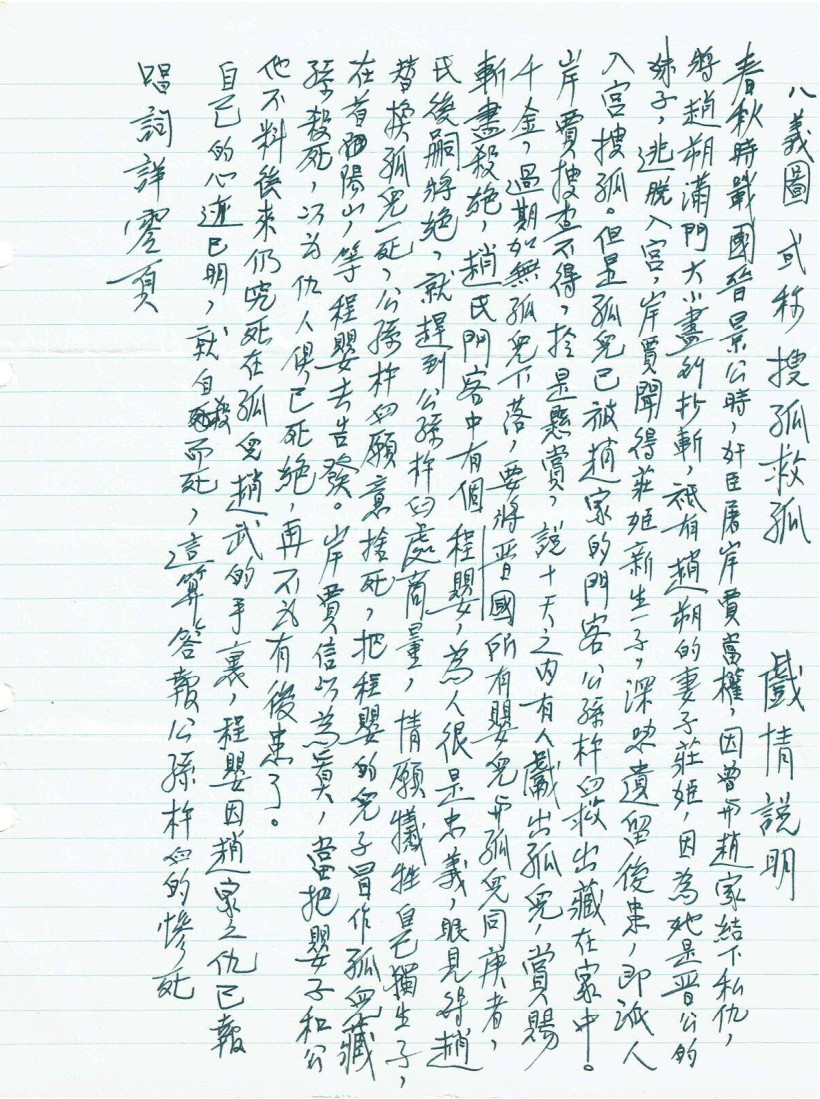 (Editor's note: The following is translated by Google Translate. No effort was made to fix errors.)
"The Eight Meanings" or "Searching for the Orphans and Saving the Orphans"
In the Spring and Autumn Period of the Warring States Period, Tu Anjia, a traitorous official, was in power. Because he had forged a private vengeance with the Zhao family, he ransacked Zhao Shuo's family all sizes. Only Zhao Shuo's wife, Zhuang Ji, escaped because she was Jin Gong's sister. Entering the palace, Anjia heard that Zhuang Ji was a new born son, and he had left behind problems. He sent people into the palace to search for the orphans. However, the orphans were rescued by the Zhao family's doorman, Gongsun Chujiu and hid in the house. An Jia was unable to search, so he offered a reward, saying that within ten days someone would give orphans and give a thousand gold. If no orphans have fallen after the expiry date, all the babies and orphans in Jin will be killed. Among the Zhao family Cheng Ying is a very loyal person. Seeing that Zhao's heirs will be extinct, she rushed to Gongsun Chujiu to discuss, willing to sacrifice his only son to replace the orphan. Gongsun Chujiu is willing to die and hide Cheng Ying's son as an orphan. Shouyang Mountain, waiting for Cheng Ying to report. An Jia believes that it is true that he should kill the infant and the grandson, thinking that the enemy is dead and there will be no more trouble.
Unexpectedly, he later died in the hands of the orphan Zhao Wu. Cheng Ying committed suicide because the Zhao family's revenge had already been reported and his heart was clear. This was regarded as the tragic death of Gongsun Chujiu.
(Detailed lyrics on page zero),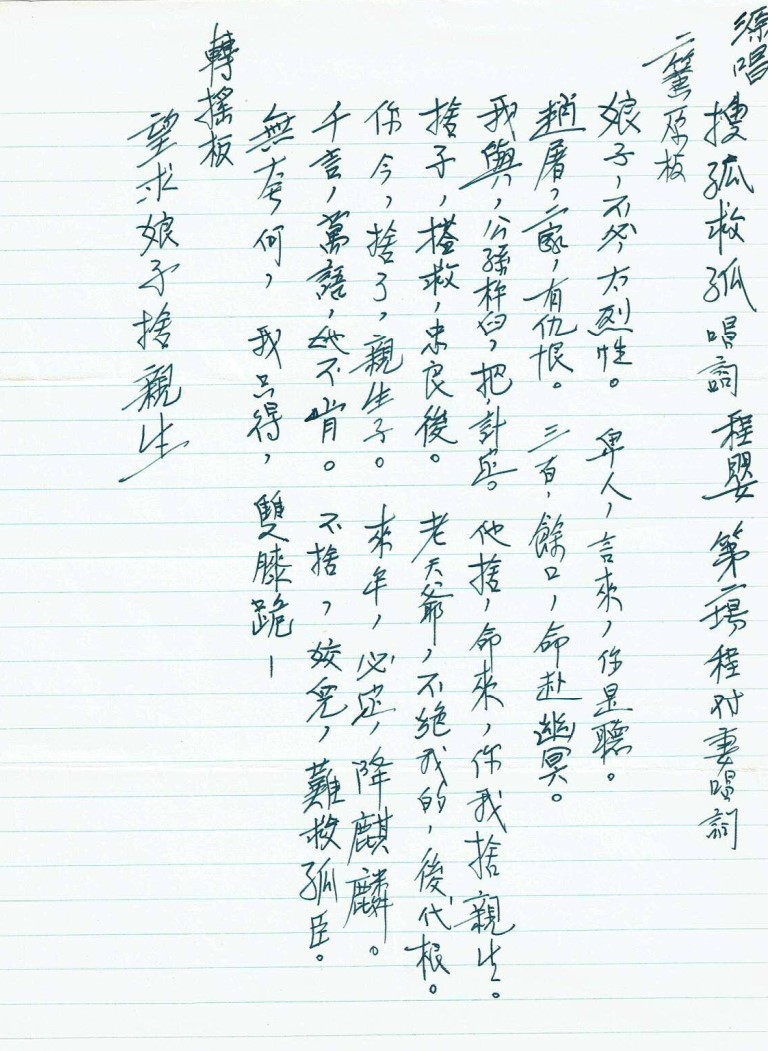 Documents Relating to Yue Pai Yung